Image

Handcrafted foreverness and engineering excellence focused on the essential: Leica ZM1 and Leica ZM2. The first Leica watch collection is the perfect combination of more than 150 years of Leica's brand culture, visionary design and unmatched quality. Clear and distinctive elementary design features, functionality, durability and sophisticated creative details set new standards in the watchmaking segment and ensure the new Leica is both: timeless and precise.
THE NEW LEICA: TIMELESS & PRECISE.
There is a distinct difference between seconds and moments: focus. Focus on the essential. Experiencing time consciously, recognizing its value and the ultimate desire to capture fleeting moments forever – to give them shape, character and a heartbeat – led us to the development of the Leica watch. Our mission: turning seconds into moments and making time visible, as well as wearable. Iconic design, precise craftsmanship and Leica's uncompromising passion are now embodied in two remarkable timepieces: Leica ZM1 and Leica ZM2.
The look was inspired by Professor Achim Heine who, since he designed numerous Leica products over many years, has a profound understanding of the company's aesthetic principles.
Dr. Andreas Kaufmann. Chairman of the supervisory board and majority owner of Leica Camera AG
Image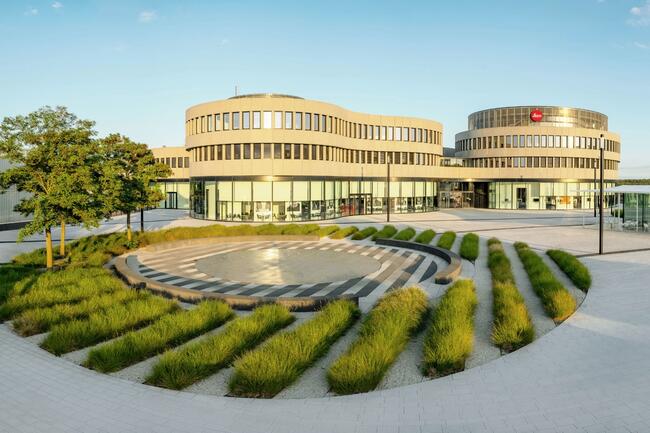 150 YEARS OF LEICA QUALITY
Timeless design, mechanical perfection, long-term-vison and an eye for the essential: For over 150 years now the Leica Camera AG stands for excellent quality and engineering excellence. From its very beginning in Wetzlar, the international manufacturer of cameras and sport optics has built its reputation on German craftsmanship and innovative technologies while art and design have always been a focal point within the culture of the brand. This is highlighted by the diversity of promotional activities for photography encouraged by Leica galleries, Leica academies, the Leica Hall of Fame Award and, in particular, the Leica Oskar Barnack Award.
Image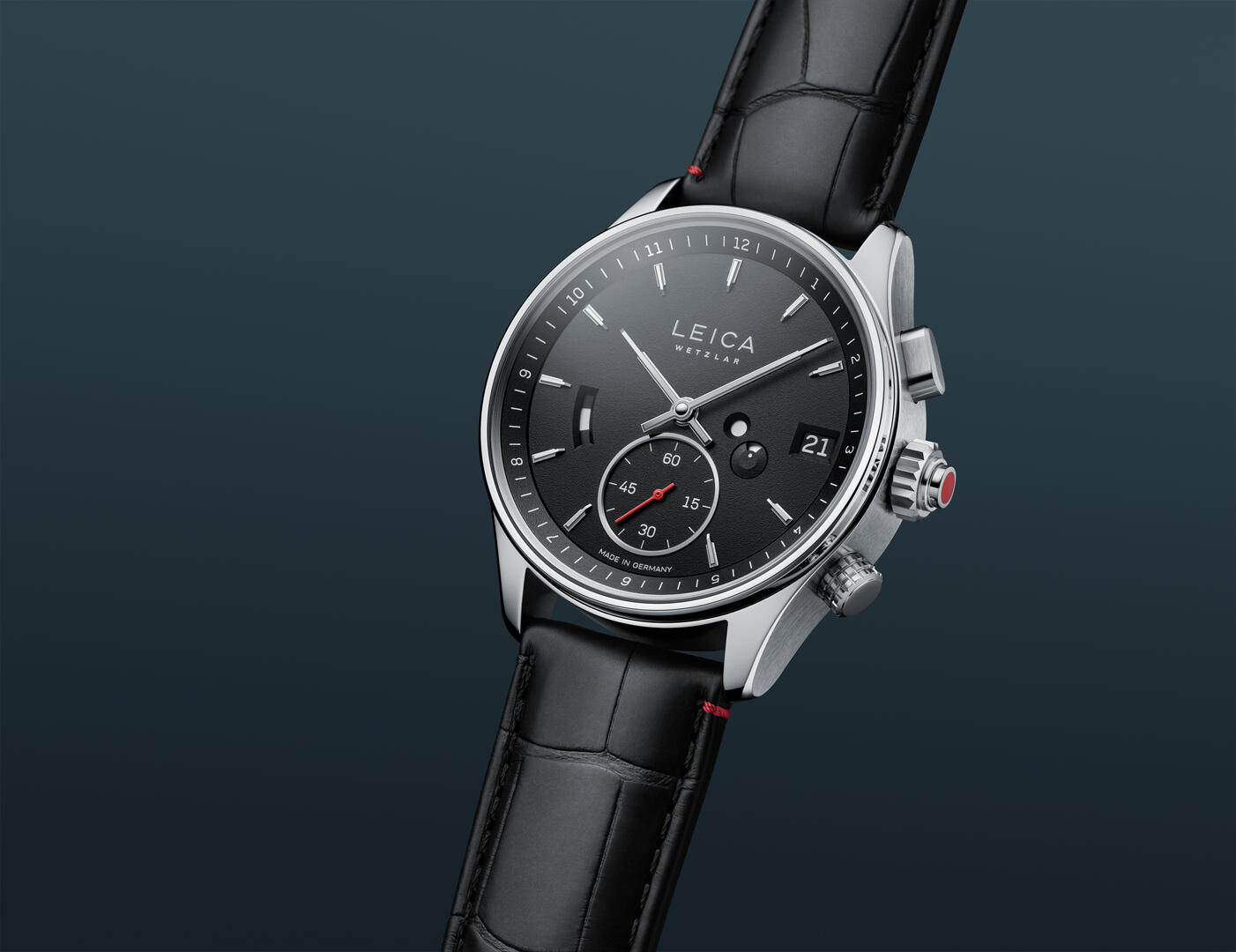 CLEAR, FUNCTIONAL DESIGN: LEICA WATCH
The domed watch glass reminiscent of a camera lens. The rhodinised and diamond indices and hands, including the elegant décor caressing the second dial, that follow the typical delicate and simple design principles by Leica. The patented, "red-dot" push-crown inspired by a camera's shutter release, and developed as an homage to Leica M's designers Ludwig Leitz II and Heinrich Janke: All functional details contain subtle references to signature features from Leica's rich history. The precise movement is framed by a transparent back and front glass made from non-scratch sapphire crystal with double-sided anti-reflective coating. Everywhere you look there are distinctive details, such as the shapely and sophisticatedly finished stainless steel case or the exquisite knurling on the crowns. This symbiosis of iconic design and supreme quality make Leica highly recognisable – at any moment.
Image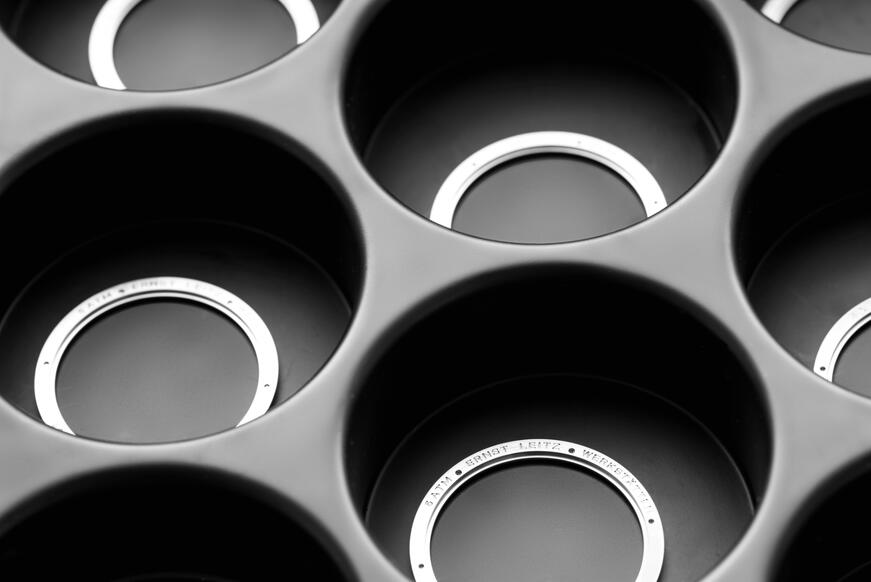 Image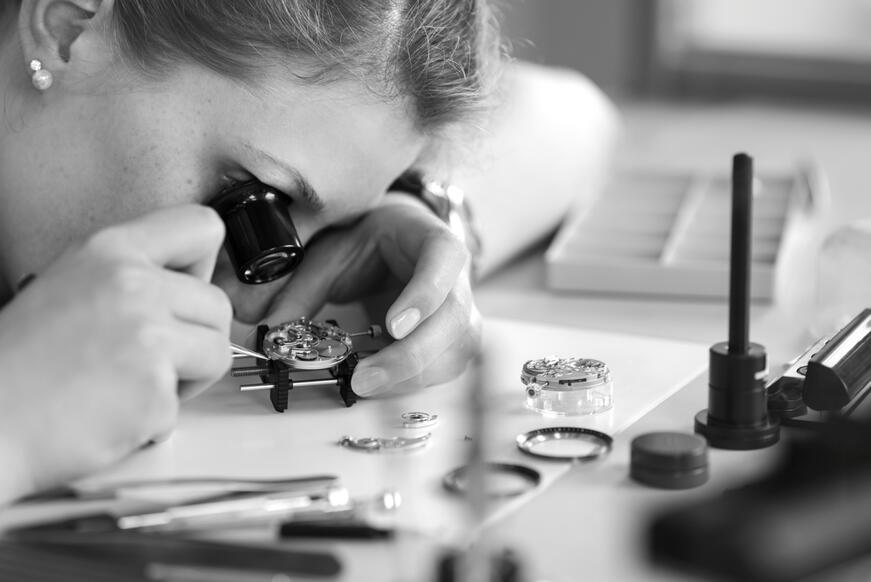 Image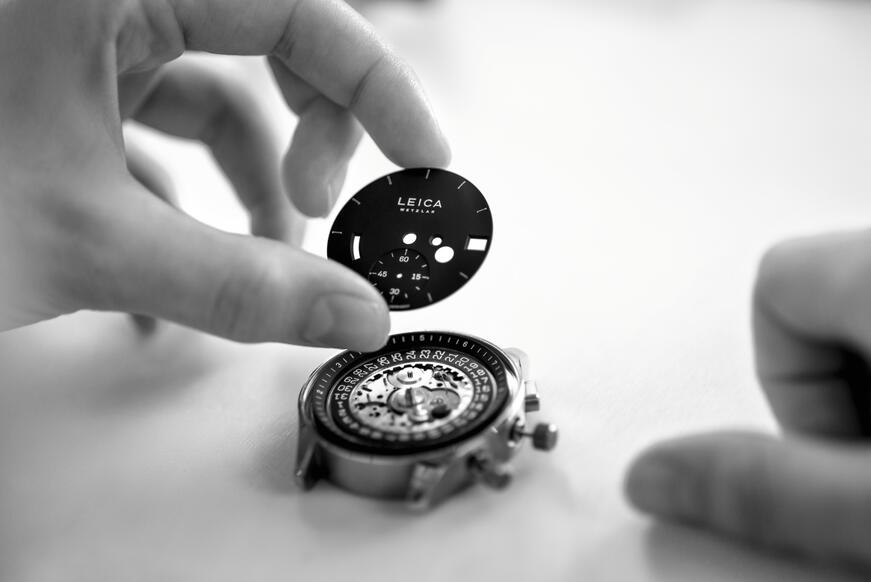 Image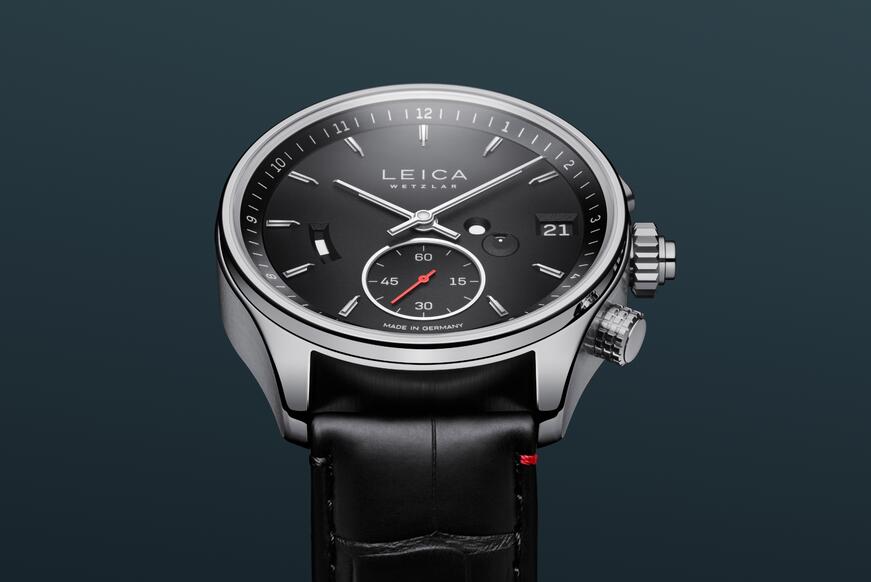 Image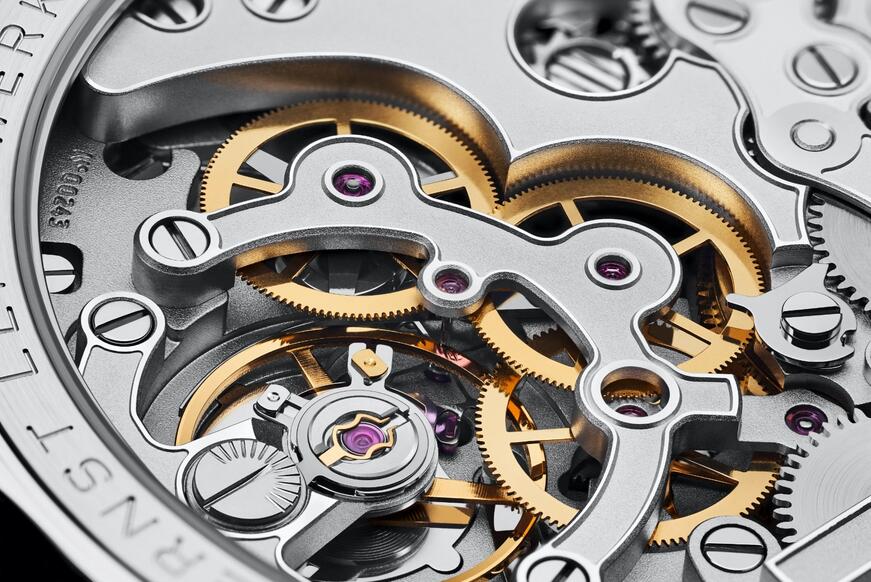 Image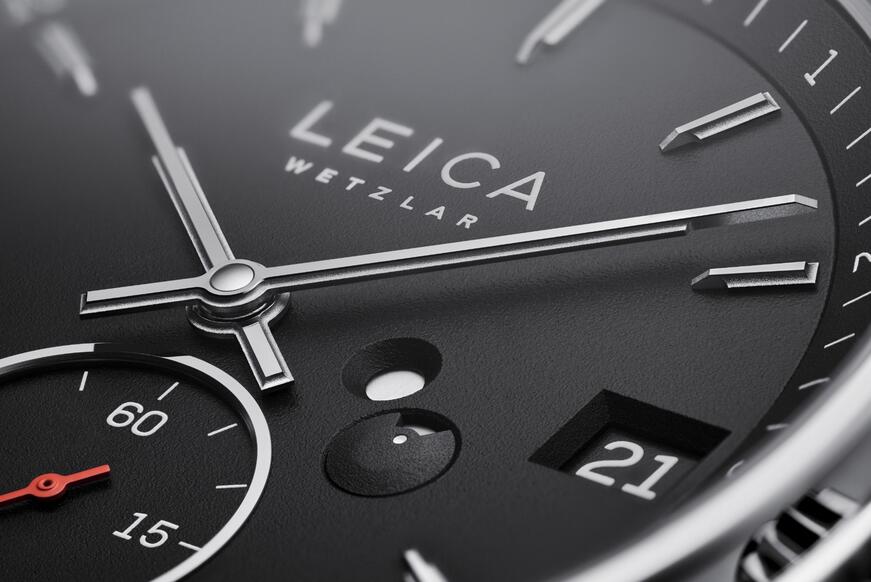 Image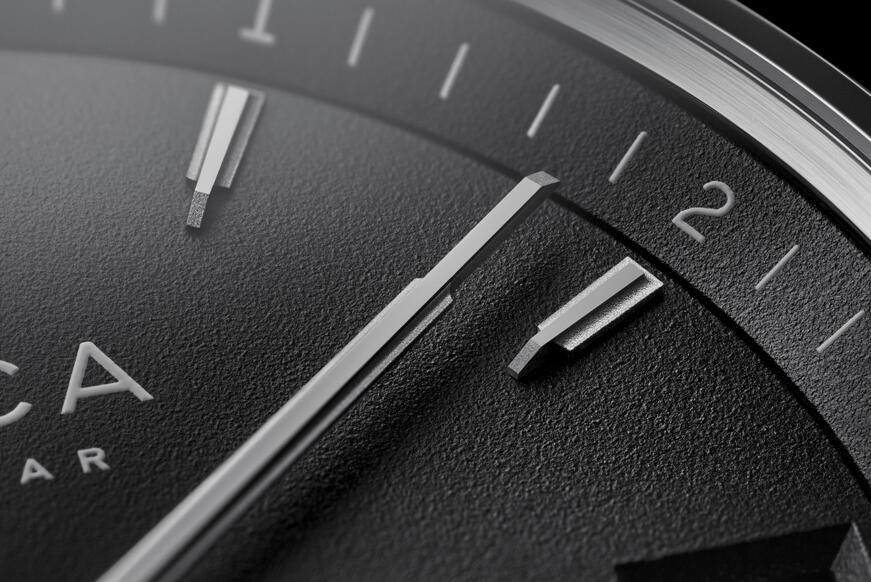 TECHNICAL HIGHLIGHT: PATENTED PUSH-CROWN
Designed to make a point. The patented "red-dot" push-crown is a unique combination of form and function. Inspired by the shutter release button of a camera, the Leica watch push-crown is pressed, not pulled. Pressing the crown of the Leica ZM1 and Leica ZM2 triggers the second-hand reset and the status display on the dial switches from white to red. This mechanism can also be used to set the date with another date button, while pressing the crown again re-engages the movement. The Leica ZM2 also features a GMT-crown that can display both time zones with a single hand. To complement the sophisticated technology, the "red dot"-design is as simple as it is iconic, establishing the push-crown is not only an attractive but also a very practical feature.
Image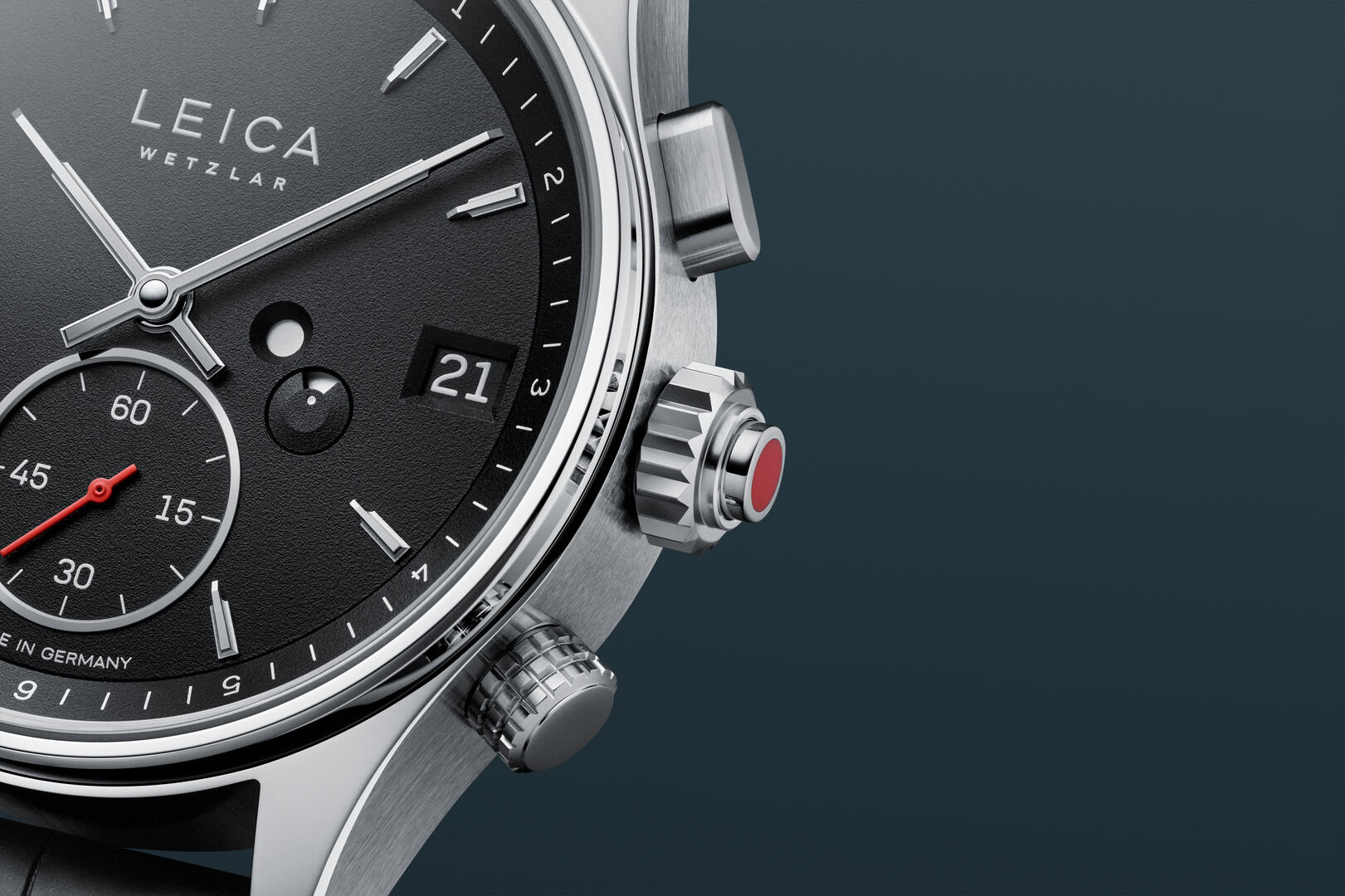 The idea was further developed in collaboration with Markus Lehmann: Whereas other crowns stop and reset the watch when they are pulled, this crown is pressed like the shutter release of a camera. It's an unusual detail that perfectly fits with Leica.
Professor Achim Heine - Product designer
Image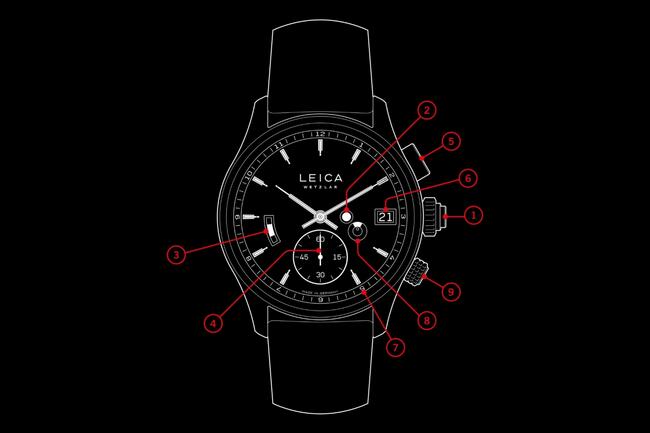 Patented push-crown
Mode indicator
Power reserve indicator
Small second hand
Date push-button
Date window
GMT turning bezel (Leica ZM2 only)
Day/night indicator for the GMT function (Leica ZM2 only
GMT crown (Leica ZM2 only)
Image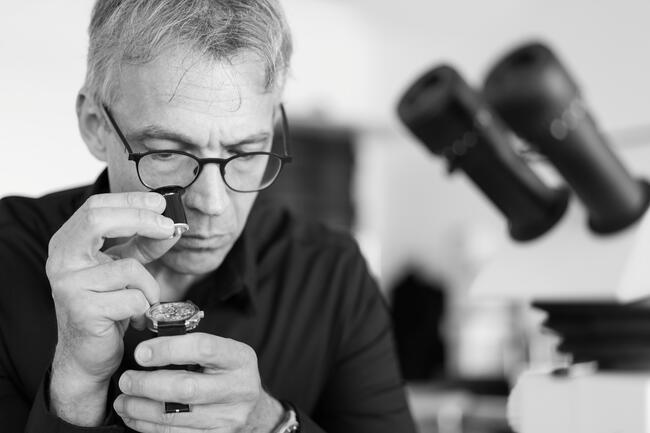 THE FINE ART OF ENGINEERING AND TECHNICAL VISION: LEICA WATCH
Unique features and technical excellence: Each Leica watch is "Made in Germany" and developed in close cooperation with Lehmann Präzision GmbH – from the initial vision through to final implementation. Concept design, manufacture and the majority of the integrated components are being produced in the company's very own Black Forest manufactory. Most of all, because Leica watches promise exquisite functionality – which couldn't have been achieved with movements currently available on the market. The manually wound movement was developed from scratch to achieve a harmonious interplay of gears and hammers and the smoothly interlocking rotations of the hands. It's all evidence of the symbiosis of visionary technology, traditional engineering craftsmanship and typical Leica quality. The result is an exclusive timepiece, handcrafted in Germany, which reveals Leica's impressive vertical range of manufacturing.
Image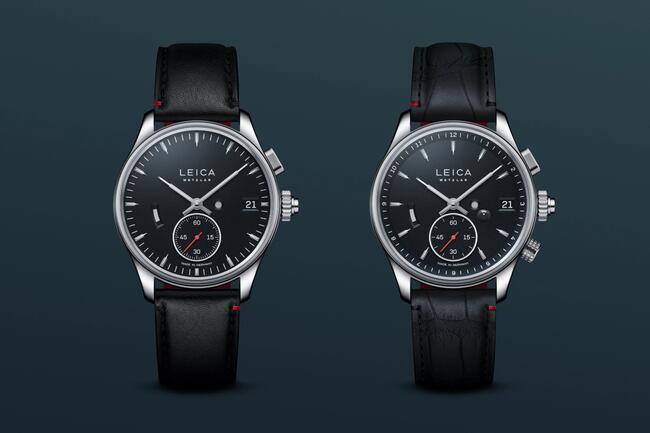 THE MODELS: LEICA ZM1 & LEICA ZM2
Mechanically, both models are manually-wound watches displaying hours, minutes and seconds, a date window, status and power reserve. The Leica ZM1 and Leica ZM2 are fitted with a scratch-proof domed sapphire crystal, a transparent case back, and are both water-resistant to a depth of 50 metres I ATM. The power reserve guarantees at least 60 hours of motion and is decked by evenly closing blades reminiscent of the shutters of a Leica camera. Similarly, the specially developed container made of glass for the Leica watch is ideal for transporting and storing Leica M lenses, too. The patented push-crown with red ceramic insert is a typically stylish, technical and aesthetic finishing touch for both watches. A classic black calf leather strap with a distinctive red interior further adds to the subtle elegance of the Leica ZM1.
Image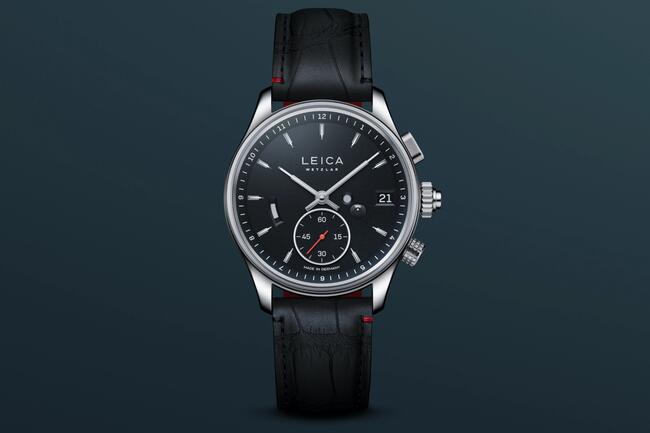 ADDITIONAL FEATURES: LEICA ZM2
Two time zones with a single hand: As a GMT-watch (Greenwich Mean Time), the Leica ZM2 also uses a single hand to indicate the second time zone on the dial. The 12-hour bezel facilitates rapid, exact and interpretation-free time-telling within a global orientation system. Another exquisite highlight of the Leica ZM2 is the sophisticated, traditionally hand-crafted alligator leather strap with the refined aestheticism of its red interior surface, 3D-cushioning and a tastefully complementary seam colour.
Any questions concerning technical details or the functionality of the Leica watches? Our Service-Team at the Ernst Leitz Werkstätten is happy to help.
The Leica Watch is available exclusively in selected stores:
USA:
Leica Store Los Angeles
Leica Store Washington DC
China:
Leica Store Shanghai Xintiandi
Hong Kong:
Leica Store Hong Kong Causeway Bay
Singapore:
Leica Store Singapore Raffles Hotel 
Japan:
Leica Store Tokio Ginza
Korea:
Leica Store Seoul Cheongdam
Austria:
Leica Store Vienna Seilergasse
Germany:
Ernst Leitz Werkstätten Store Wetzlar
Leica Store Munich Maffeistraße
Russia:
Leica Store Moscow GUM (temporarily closed)
Switzerland:
Leica Store Geneva
Leica Store Zurich
United Arab Emirates:
Leica Store Dubai Mall
United Kingdom:
Leica Store London Mayfair
Australia:
Leica Store Melbourne
The Leica Watch will soon be available in even more Leica Stores worldwide.