Image
Leica Camera AG is a new partner of the Content Authenticity Initiative (CAI). The company is always striving for innovation and, with this partnership, takes a pioneering step towards the sustainable protection of digital image authenticity.
Digital products and services form an everyday part of modern life. Nevertheless, despite the many advantages offered, digital content is easy to manipulate. Disinformation can spread throughout the media landscape. This undermines trust – even in reporting. It can be difficult for photographers to prove authorship of their own photographs, which leads consumers to doubt the accuracy of content and sources. Leica is addressing this much-discussed topic with the aim of providing solutions.
For over a century, the Leica brand has been the name for authentic images. Leica cameras have produced countless iconic shots that became part of our contemporary history. With its international campaign "The World Deserves Witnesses," the company honours this invaluable work and the commitment of photographers in their role as contemporary witnesses. The partnership with the Content Authenticity Initiative (CAI) represents a logical and important step towards copyright protection for photographers.
As a partner of the CAI, which was launched in 2019 by Adobe, Twitter and the New York Times, the Leica innovation and development team implemented the Coalition for Content Provenance and Authenticity (C2PA) standard in a Leica camera. In September 2022, the first images were photographed using the new provenance technology in a Leica M11. Each image includes a forgery-proof signature that documents essential information such as camera model, manufacturer and image content. This data can be viewed by anyone using free, CAI open-source tools that prove whether an image is edited or original. This guarantees an unbroken chain of authenticity from the time a picture is taken to the time it is published.
Image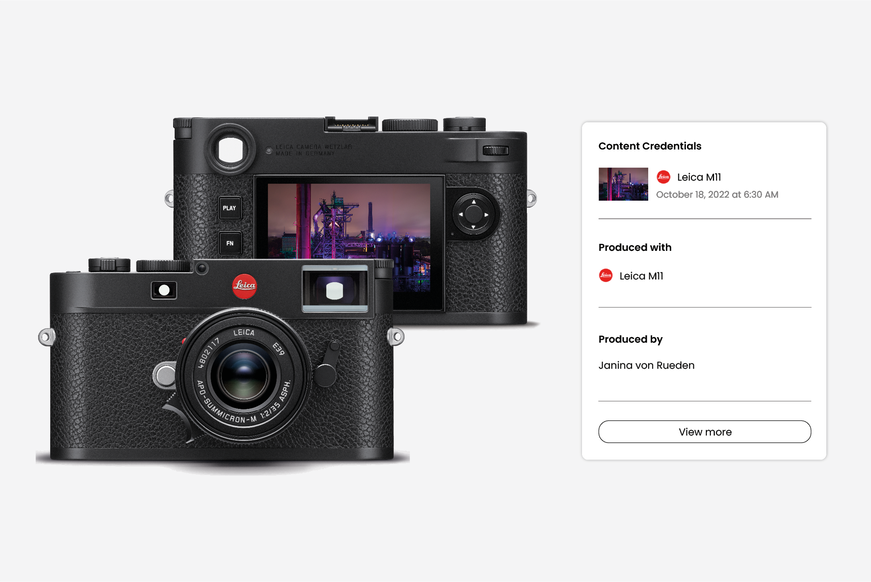 Dr Andreas Kaufmann, Chairman of the Supervisory Board of Leica Camera AG: "Leica cameras have always stood witness to iconic moments in world history. However, determining the authenticity of visual content has become increasingly difficult and important in the age of digital photography. Now with the ability to provide this proof, we are once again strengthening trust in digital content and re-establishing Leica cameras as authoritative tools in the documentation of world events."
Our shared goal in this partnership with CAI is to safeguard the integrity of digital media, create transparency and increase worldwide adoption of the global C2PA standard. Millions of creative professionals – photojournalists, art directors, social media influencers – and end consumers alike can benefit from the provenance technology and the associated CAI open-source tools.
The first Leica cameras with the C2PA standard are planned for release in 2023. The integration of this forward-looking technology in a Leica camera marks another milestone for a company that revolutionised the world of photography in 1924 when it introduced the 35mm camera. As a pioneer in photography, Leica once again demonstrates its innovative spirit while always remaining true to its traditional values of consistency, quality and trust.