Image
Leica Q2
Accept nothing but perfection
Image

Improved features and functionality
for maximum quality
Everything we do is driven by your passion for photography. We provide regular firmware updates to ensure that you can look forward to enduring enjoyment of your camera.
Improve the performance of your Leica Q2 and enjoy the benefits of the new features and functions.
OPTIMIZED FUNCTIONS IN DETAIL
Firmware Update 3.1
Pixel-Mapping:
Defective pixels may appear on the image sensor of digital cameras over time. The camera compensates for these defective pixels automatically by calculating the data captured by other pixels surrounding defective ones. This feature requires a process known as "pixel mapping" to recognise and register defective pixels. The camera does this automatically every two weeks. The function can also be accessed manually if needed.
Advanced setting options for Touch AF in EVF mode:
Download firmware update
You can quickly and easily download Firmware Update for the Leica Q2. The instructions provided with the firmware update will guide you safely through the installation process.
Firmware
Leica Q2 - Firmware Update 3.1
Simplified Chinese
Danish
Dutch
English
French
German
Indonesian
Italian
Japanese
Korean
Polish
Russian
Spanish
Installation instructions for Leica Q2 and Q2 Monochrom - Firmware 3.1 and Firmware 1.1
Installation instructions for Leica Q2 and Q2 Monochrom - Firmware 3.1 and Firmware 1.1
Firmware chronology
Firmware Update 3.0
NEW
- The thumbwheel button is now also available for direct access in MF mode
- Size of the AF field can now be modified
EXTENDED
- Display Settings and JPG Resolution can now be selected for favorites menu
- special setting options for Auto ISO in flash mode
IMPROVED
- new user profile sequence
- improved picture quality and color rendering for JPG images
Firmware Update 2.0
AF field size selectable
Choose between three AF field sizes (small, medium, large) by a long tap on the camera display while touch AF is activated.
DNG writing speed improved
The DNG and DNG+JPEG writing speed is now improved by the factor 2x.
Deleting user profiles
The user now can delete individual/single user profiles.
Touch AF + Release
Touch AF + Release is now implemented and works in all AF modes.
Status screen for photo and video implemented
Complete overview of the preferred settings, easy access and operation by touch. The video mode can be deactivated or activated via the status screen.
Exposure parameters for video
Extended opportunities for capturing video files including the ability to switch between PASM by aperture- and shutter speed dial.
Auto ISO behavior
The auto-ISO behavior was changed and the priority is now set to "correct exposure".
Manual Focus behavior
In MF mode the preselected AF frame will appear and can be used to start the magnification, the frame can be moved by using the cursor keys. In AF-Multi: the magnification will start from the center and the last position is saved until the camera is switched off.
Face Detection behavior
If the face detection is not successful, the AF-Mode now switches to AF field instead of AF multi field.
Leica FOTOS transfer speed
Downloading photos from the Leica Q2 to Leica FOTOS is now up to 50% faster.
(The Leica Q2 needs to be paired again with Leica FOTOS after this firmware update)
Variable EVF frame rate
A menu was added to choose between 60fps or 120 fps. For fast moving subjects set 120 fps for a more fluid display of movement (with lower resolution) or choose 60 fps for full resolution.
AF-L / AE - added to Zoom button
The AF and AE lock function allows you to lock your focus or exposure settings separately as you recompose your shot.
Improvement of Tracking AF
Precision and overall performance of Tracking AF is improved.
Touch in EVF
Touch functionality during EVF mode is now available.
Firmware Update 1.1
DNG files recording
DNG files recorded in 'Continuous Super Speed' mode are now readable in Adobe products.
Burst Shooting Mode + attached flash
In 'Burst Shooting Mode' (H/M/L) the attached flash is now triggered more than once (depending on the power of the flash).
Download of images via Leica FOTOS
Stabilized image download via Leica FOTOS in combination with 'Remote-Wake up' as well as display of aperture values after wake up.
Interval shooting in Drive Mode
In 'JPG´s only' setting now images can be taken with 1s 'Interval' continuously without losing frames. Also the performance with 'DNG + JPG' has been improved.
REMARK: Due to general SD-card writing time please use an interval time of longer than 2 sec. in order to secure that all images (DNG + JPEG) will be saved.
Image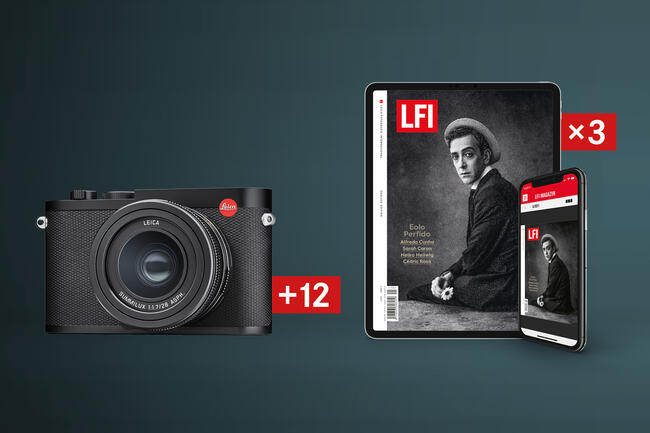 Register your Leica. Enjoy exclusive benefits.
By registering your item, you can extend the warranty on your Leica camera or lens for a further 12 months and you'll receive three digital editions of the LFI Magazine. This offer covers all Leica cameras and lenses from the M-System, SL-System and Q.