Image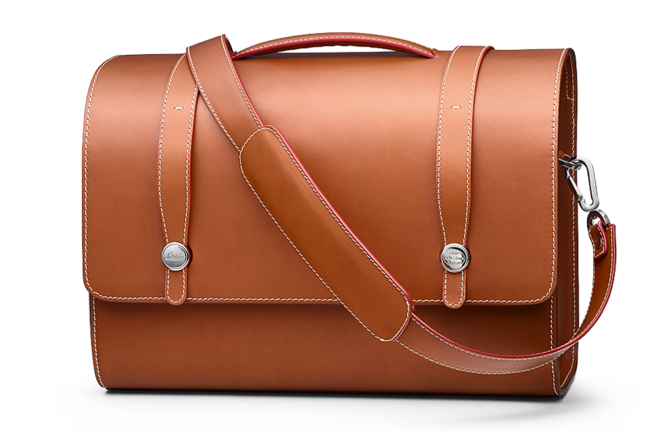 At photokina 2014, Schedoni, the Italian leather-goods manufacturer from Modena, and Leica Camera AG, Wetzlar, will be presenting the first accessory created in a collaboration between the two companies: a premium leather bag that, thanks to its ingenious design, may be used both as a classic camera bag and as a business bag for discerning owners.
Each Schedoni for Leica bag is painstakingly handcrafted from north Italian cowhide saddle leather by highly skilled and experienced leather workers. The production of a single bag using these traditional craft principles takes approximately 18 hours and involves the precise sewing of exactly 112 individual pieces of leather. The cognac-coloured leather is tanned in a traditional, purely organic process. This process is particularly environmentally friendly, as it involves no chemicals or other toxic substances.
The inside of the bag is manufactured from selected, lightly sanded nubuck leather and lends the bag its inimitably velvety character. The dividing elements inside the bag can be easily exchanged and flexibly configured to create customised compartments for holding cameras, lenses and other photographic accessories. With these dividing elements removed, the bag is ideal for carrying documents and other business paraphernalia. A special sleeve compartment for a laptop computer and an integrated leather pocket for fountain pens and writing utensils increase the versatility of the bag and make it a perfect and stylish companion for everyday business use.
All metal fittings are made of the finest brass, refined by palladium plating. The threads for the eye-catching contrast stitching are sourced from Germany. The bag will be available in a strictly limited edition of only 100 units and will bear a discreetly placed edition number on the inside. The bag will be available from Leica Stores.
Leica and Schedoni will also be offering three matching leather accessories: slipcases for an iPad, an iPhone and for credit and business cards – all handcrafted by Schedoni from the same cowhide saddle and nubuck leather. Through matching design and materials, the bag and accessories create a perfectly harmonised four-part ensemble. The slipcases offer optimum protection for carrying sensitive devices. A practical pull-out mechanism ensures fast and uncomplicated access to the iPhone or iPad. Credit cards and business cards are ideally protected against dirt, rubbing and moisture. The matching premium leather accessories for the Schedoni for Leica bag are an unlimited edition and will be available as individual products from Leica Stores and Leica Boutiques.
About Schedoni
The fame of the well-known Italian manufacturer of leather goods and accessories is founded in particular on its leatherwork for the automotive industry. Schedoni is a regular supplier to prominent luxury marques such as Rolls Royce and Ferrari. Leading manufacturers in the watchmaking industry also source their premium leather wrist straps from the family-run company, which is now in its fourth generation at its original home in Modena.
Image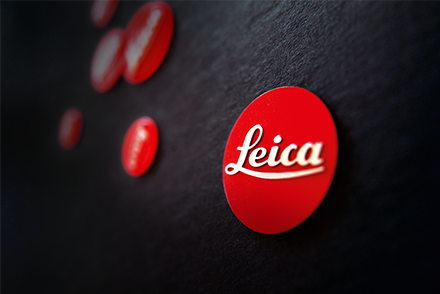 Leica Camera – A Partner for Photography
Leica Camera AG is an international, premium manufacturer of cameras and sports optics. The legendary reputation of the Leica brand is based on a long tradition of excellent quality, German craftsmanship and German industrial design, combined with innovative technologies. An integral part of the brand's culture is the diversity of activities the company undertakes for the advancement of photography. In addition to the Leica Galleries and Leica Akademies spread around the world, there are the Leica Hall of Fame Award and, in particular, the Leica Oskar Barnack Award (LOBA), which is considered one of the most innovative sponsorship awards existing today. Furthermore, Leica Camera AG, with its headquarters in Wetzlar, Hesse, and a second production site in Vila Nova de Famalicão, Portugal, has a worldwide network of its own national organisations and Leica Retail Stores.