Image

Project 562:
Pandemic Portraits and Stories from Native Youth
Over 10 years ago Matika Wilbur began to develop a monumental aspiration that has led to Project 562. To help develop a body of imagery and cultural representations of Native Peoples to counteract the relentlessly insipid, one-dimensional stereotypes circulating in mainstream media, historical textbooks, and the culture industry. To create positive indigenous role models to do justice to the richness and diversity and lived experiences of Indian Country.
In 2012 Matika Wilbur sold everything in her Seattle apartment and created Project 562 which reflects her commitment to visit, engage and photograph all 562 plus Native American sovereign territories in the United States.
This project has driven her to travel hundreds of thousands of miles, many in her RV the "Big Girl" but also by horseback through the Grand Canyon, by train, plane, and boat, and on foot across all 50 states.
She reflects a remarkable way of being an artist in the contemporary world. Kick starter funded with a large community of online supporters, sleeping on sofas, she is welcomed and hosted by strangers who soon become friends and share the aspirations of the artist and her project.
The photographs that Matika takes reflect her consummate craftsmanship. Beautiful black and white images that selectively incorporate color and showcase their subjects in vital mutualism with the lands on which they live and which they steward.
But her virtuoso technique is only one aspect of the social and cultural meaning of the works. They are one product of her dynamic engagement with Native communities in which she takes the time to understand the stories and histories of particular tribes. Each particular tribe and each individual and experience shapes entirely the way the portrait comes to be. One gets the sense that her works reflect a true partnership between artist and sitter.
Matika says, "Project 562 is soul-bearing labor of love that has been overwhelmingly welcomed and supported. Sitters have become best friends, mentors, and prayer companions in solidarity to tell our stories. In turn, I've presented at prominent institutions, from the TED to Harvard, published in national syndications, aided federal task forces in Washington, D.C., resisted at Standing Rock. I've helped develop curricula, partnered with non-profits to research Indigenous representation, and installed public art. My All My Relations (AMR) Podcast with Dr. Adrienne Keene celebrates and uplifts our communities with astounding audience scale and response. I have shared Indigenous scholarship and ancestral knowledge systems, Indigenous matrilineal authority and Native feminism, ongoing challenges to our land- and water-based identities and to tribal sovereignty, and much more." 
Image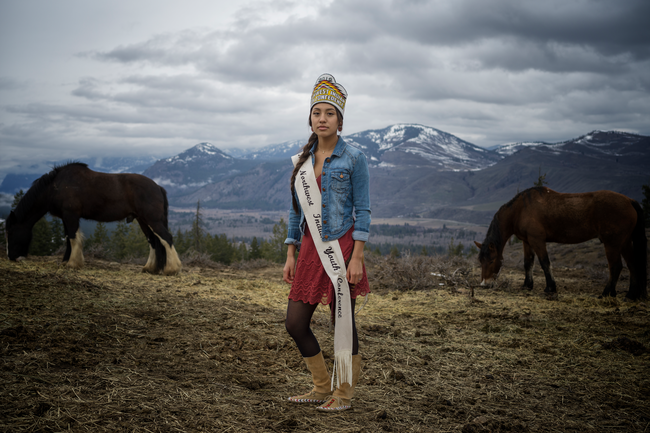 "Running has been my absolute passion and my stability. When I transferred schools, I felt as if no one wanted me to succeed. My teacher told me it was in my genetics to be an alcoholic, my basketball coach would drug test only me on the team, and my track coach told me I would just be another stupid Indian runner with no chance in the real running world. I let those words motivate and push me until I earned the fastest times in the school, but she still wouldn't let me race. My dad gave me these words "You can either be a quitter or come back a success story. Your choice.
That summer I trained harder than ever and came back strong. I made it to State. I made first team and placed in the Nike meet in Boise and Footlocker in California. I was Mead High School's #1 runner. My story isn't over. I will keep working hard to reach my goals. I will go to college so I can continue my success story that will inspire my fellow Native youth. I want to let them know that although the odds might not be in our favor, we come from strong people. We are strong and will rise!" -Hannah Tomeo (Colville, Yakima, Nez Perce, Sioux and Samoan Nations), Northwest Indian Youth Princess
Image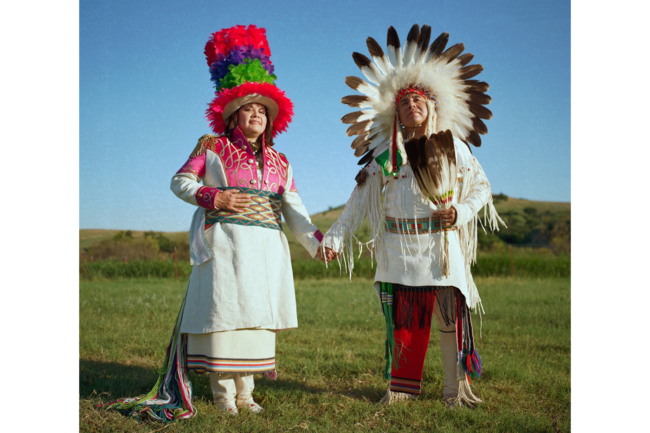 Welana Fields Queton (Osage, Muscogee, Cherokee) & P'haw Ah Tahlee Queton
Image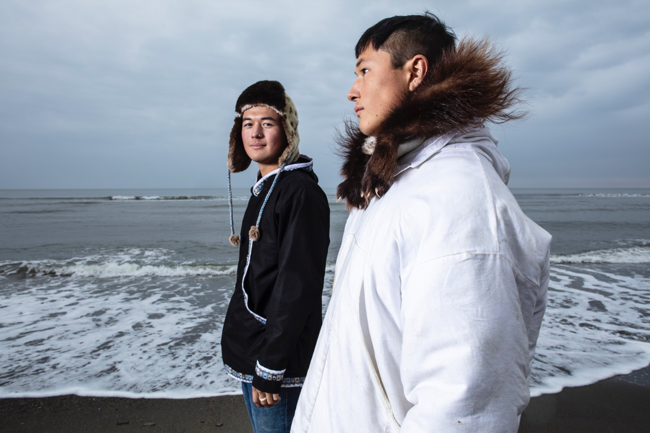 Wilson Mungnak Hoogendorn and Oilver Tusagvik, Inupiaq brothers from Nome Alaska, were the first to summit North America's highest peak, Mount Denali, in the 2019 climbing season. I asked them how they prepared: "Doing hard things," Wilson chuckles. "If you're just constantly doing hard things, it's a blip upward if you want to go. Do something crazy," Oliver explains. Wilson agrees, "Just doing hard things makes everything easier." They recall walking into the ranger station to register to climb and being met with sideways glances, "Are you sure?", the ranger asked. "Probably because we didn't look fancy"… Wilson mentions that most of the people that climb have really expensive equipment and many even have sponsorship. Despite doubt, they proceeded to break trail for the 2019 season at the third most prominent and isolated peak on Earth, after Mount Everest and Aconcagua. Denali, a kuyokon word that means "high", "tall", or "great one" is the highest mountain in North American at 20,310 feet above sea level.
Image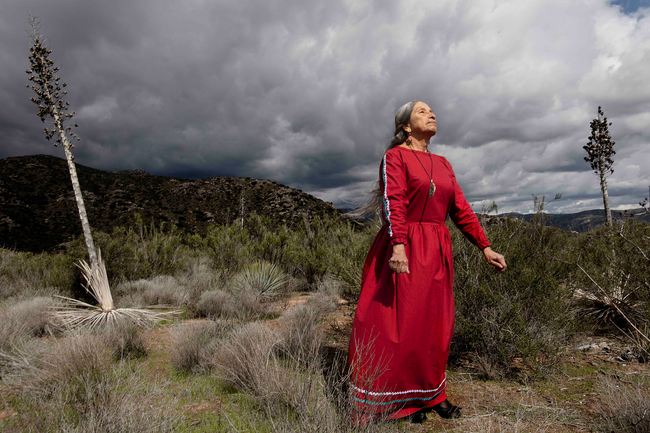 Virginia Christman is a Kumeyaay grandma, mother of Takko Christman, who is a leader of the prominent Bird Dancing family. There are thirteen Kumeyaay Nations in Southern California, and across the border, south of San Diego into Baja are another five nations. For Kumeyaay people, Bird Songs, or Ashaa Takook, are essential to transmitting cultural, and spiritual values and teachings; they're a traditional form of oration and storytelling that are sung in ceremony or at large gatherings". In the photo she is demonstrating the Bird Dance, and it is clear to me that her influence as a matriarch has deeply influenced her family and community. Right now there's a lot of organizing and resistance among Kumeyaay people to stop Trump's wall from being built, in fact, earlier this month, they stood in front of an area where a pre-construction blast was meant to happen and stopped the progression of the wall; the arbitrary U.S. border has deeply impacted Kumeyaay relationality.
Image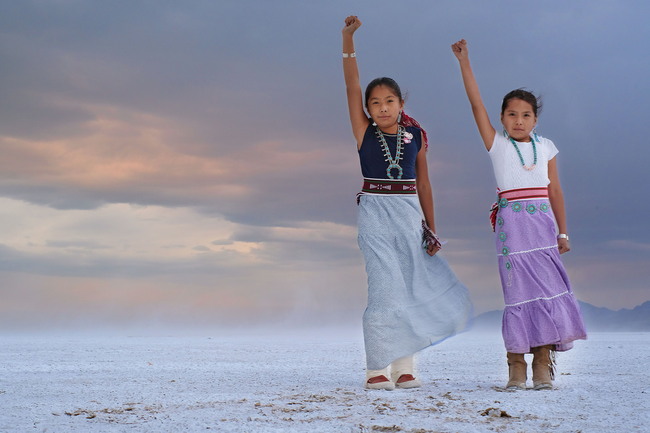 Isabella & Alyssa Klain, Dine'. We will not rest. Hoping is not enough. Our resilience shall prevail. Together we rise. Our ancestors always behind us.
Image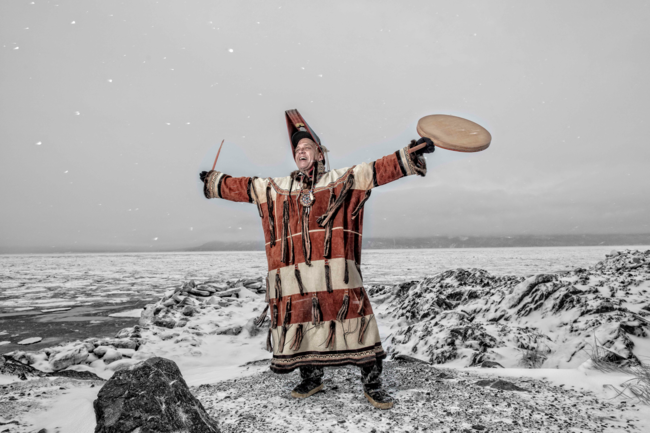 Ethan Petticrew, Unangax. "We have a huge suicide epidemic up here with young people; I mean it happens all the time. It's an epidemic in our villages; we have one, and then five more will follow suit…. I'm sick of it; it's a product of a colonization. I remember being suicidal over it in my teenage years. At one point I tried pills because I thought, 'Who am I? I don't fit in anybody's world. There's too much white in me, and in the white world I have too much Native in me.' We get lost sometimes, but the ones that love us the most are our own. I can't stand to see any more of our young people die this way; so I've committed myself to working with teenagers and young people in the dance group, that's my contribution to keeping our kids safe. I know it won't provide every single one of them with the tools they need but it's my small contribution; to ground them in who they are. Hopefully that will help them with resilience and moving forward."
Image
Princess Daazhraii Johnson (Neets'aii Gwich'in). She is the creative co-producer and writer for @mollyofdenali on PBS, the first AlaskaIndigenous children's television show to win the prestigious PeabodyAward! ​ ​Princess reflects on reclaiming Indigeneity and the future for Indigenous generations: ​ ​"Our dreams are really powerful. If we can manifest that for the greater good, then we should. Our Indigenous values need to be shared with the world.The Indigenous worldview needs to get out there. ​​When we see clearly what's taking place in ​dominant culture and colonization, then we have an obligation to make change and to bringothers up. We have to simultaneously rise up. You tell your truth and you start healing from that. And then you get to create the new and build the new." ​Princess holds a bachelor of Arts degree in International Relations from George Washington University and a Master's degree in Education from theUniversity of Alaska Anchorage. She gives much credit to those individuals and organizations that inspired and supported her as an artist throughout the years: she is a Sundance Fellow for the filmmakers, Producers and Screenwriters Lab, and an EmergingVoices Rosenthal Fellow with the PEN Center. She has been a member of the SAG-AFTRA Native American Committee since 2007and also serves on the Boards of Dancing with the Spirit, NDNCollective, Native Movement, and was appointed by former president Obama to serve on the Board of Trustees for the Institute of American Indian Arts.
Image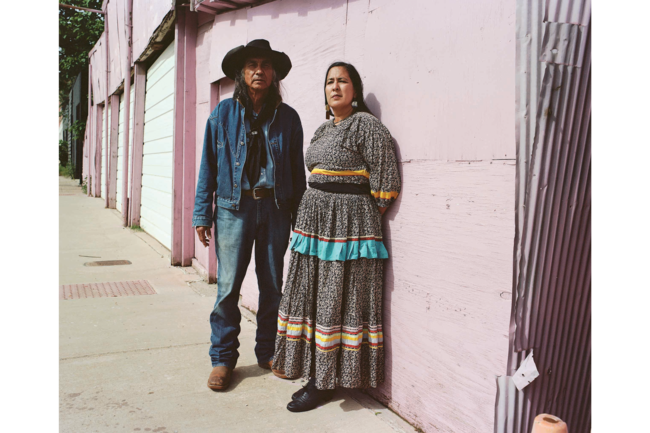 Richard Ray Whitman and Bineshi Albert (father and daughter), Yuchi
Both Richard and Benishi attended the Institute of American Indian Arts (IAIA), Santa Fe. Richard started as a painter and expanded to become an acclaimed multidisciplinary visual artist, poet, and actor. Benishi attended as a playwright and actor focusing on the modern complexities of Indian Country.
Richard introduced himself and his rebellious nature saying "I'm an artist, I'm also a horse thief. My first juvenile crime, in sixth grade, was borrowing a horse". He carried this spirit with him to IAIA where he recounted the influence of a teacher:
"I remember when I was going to be kicked out. I had the guidance staff in this big meeting- me sitting there, someone from the academic department representing grades, dorm guidance people and then your art class teacher or someone comes to represent you. And I didn't even ask Mr. Houser. He taught sculpture and I was in painting. But I remember he came. Wow, he was one of those guys. He had a presence in a few words. But I remember he got up and he said 'You're kicking the best students out of the school. Why? Sure they come here and they bring their problems. They bring stuff with them, but they don't come empty handed. They bring their art. They bring their spirit too. That's why we're here-- that's why this school, this new model school, to embrace our culture. If we're going to do we need to quit sending these kids home.' He'd lost some students, sculpture students, not just me, but prior. He shut the whole meeting down after he talked…they didn't kick me out."
He recalled his relationship with Mr. Houser as the kind of relationship where they would scold you and then love you right after. It showed he cared enough to set him right.
Image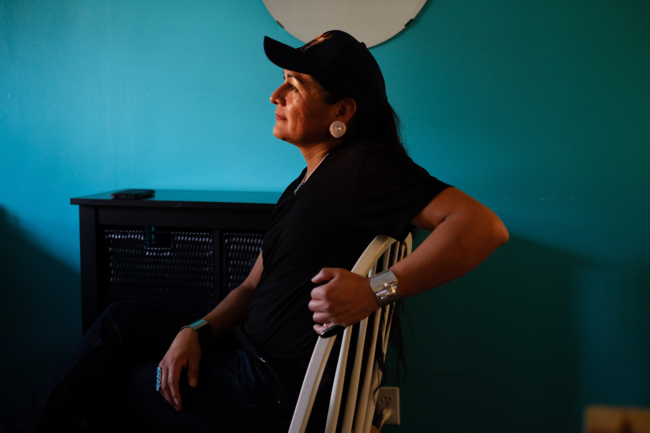 Travis Goldtooth, Buffalo Barbie, Diné. Travis Goldtooth belongs to the Diné people from Navajo Nation and their Two-Spirit drag name isBuffalo Barbie. We met in San Francisco at the largest Two Spirit PowWow in the nation. This photo was taken before the powwow in the hostel as we were bustling about, doing our makeup, excited to be gathering with friends and relatives. That morning we walked alongSan Francisco's bay while drinking coffee and chatting. I was moved by Travis' loving nature and forgiving spirit: "I was pretty much raised by my grandmother and she instilled all this cultural knowledge. In the Navajo culture, it's a matriarchal society. And with the matriarch, which is my grandmother, once she passes, the next holder is a Two Spirit individual; it's usually a male/female, an individual like me. When I moved back home five years ago, I fell into that role, and I guess I never looked back. My brothers and sisters look up to me. I have to do all the family event gathering and when somebody's in the hospital or something like that, I'm the first to be informed. It falls on me to give the news because they say, if it comes from me, it has more of a subtle warmth feeling; it's not as a tragic news as if my brother gave it. They don't freak out because they think I'm handling it. My cousins and sisters said, I couldn't have done it without you. I don't know what you did but everything smoothed out itself. I didn't think of it, without knowing I've fell into that responsibility. I'm just talking to them and I give them advice as much as like, we were talking here, kind of like the cultural advice that we have.
Image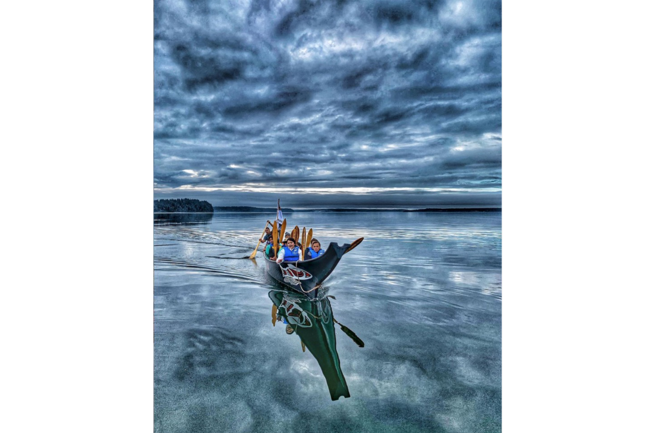 "The canoe is more than just a vessel to carry our bodies; it carries the hope and resiliency of our people. We are living in a time of cultural resurrection, The Coast Salish sea beckons our bodies to commune with the ocean in our traditional way— to provide the lifestyle needed to feed our people. The elders say that our spirit gets hungry. Our spirit isn't just hungry for food. It needs to be nourished by the sound of water pulling and drum beats pounding; it yearns for traditional Salish seafood that burns over open fires and emerges from beneath the smoldering ground; our spirit grows hungry for the feelings that can only be sensed in those spaces. Traveling these ancestral waterways reinstates our wholeness as a people. These spiritual voyages embody the resilience of indigenous sovereignty. This is a revolution."
Image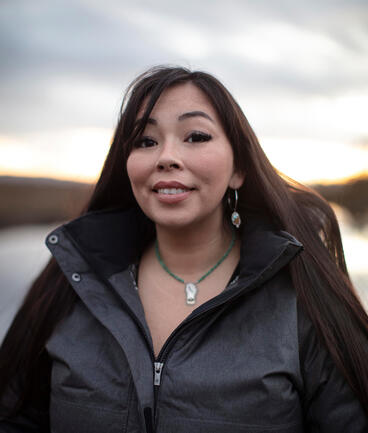 From the Swinomish and Tulalip peoples, Matika is one of the nation's leading photographers. After earning her BFA from Brooks Institute of Photography, Matika began her career in fashion and commercial work in Los Angeles. She found herself "turned off" by the commercial world, and instead decided to use photography as a tool for social justice. Project 562 is Matika's fourth major creative project elevating Native American identity and culture: her first project captured portraits of Coast Salish elders for "We Are One People" (2004, Seattle Art Museum, Seattle, Washington and The Royal British Columbia Museum of Fine Arts, Victoria, British Columbia); "We Emerge", featuring Native people in contemporary urban and traditional settings (2008, Burke Museum of Natural History and Culture, Seattle, Washington); and "Save the Indian and Kill the Man", addressing the forced cultural assimilation of Natives from 1880 to 1980 (2012, Tacoma Art Museum, Tacoma, Washington). 
While working as a professional photographer, she was asked to give back to her community and teach at the Tribal school. She received her teaching certification and taught primary education for five years. There, she experienced firsthand the lack of educational resources to teach Indigenous intelligence, dismayed by a curriculum that did not provide Native youths with positive imagery and understanding. This work inspired Project 562. 
Matika has offered over 300 keynotes in the past two years, at places like Harvard, Yale, Berkeley, Google, and The National Education Association, but also through visionary vehicles like TED Talks. She is currently a National Geographic Explorer, working on her Native Alaska series as part of Project 562. Matika is authoring her 500-page Penguin/Random House book, out in the Fall of 2022. Dispatches from Project 562 can be found on Matika's 45k-strong Instagram account (@project_562), and she co-hosts the million listened podcast All My Relations, which invites guests to explore the connections between land, creatural relatives, and one another.