Image

Leica Hunting App and Ballistic Calculator
Image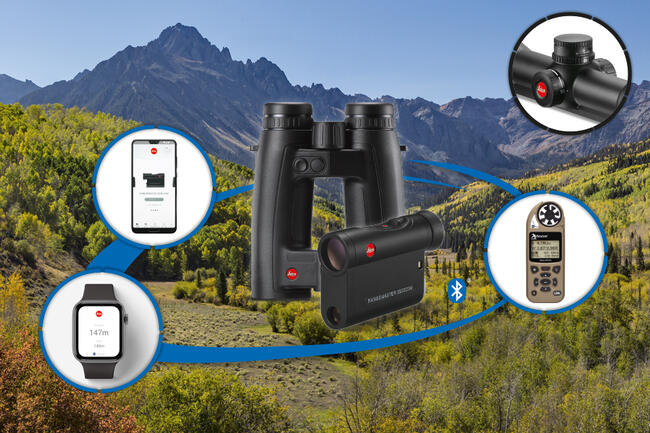 Unlimited ease of use: quick connection, adjustment, measurement. Save ballistic curves and access them again and again. The Leica Hunting App runs on both Android and iOS. Simply download it from the Google Play Store or the App Store to conveniently configure your individual ballistics settings on your smartphone. Via Bluetooth® you can connect your Geovid 3200.COM, Rangemaster 3500.COM and Rangemaster 2800.COM to your smartphone and transfer your personal ballistics data to the Rangemaster. Select one of twelve standardized EU curves or create your individual ballistics profile using Leica's online ballistics calculator. Memory function: Once you have saved your ballistic curves, you can access them again and again – and use them immediately. For maximum ease of use and powerful rangefinding.
Image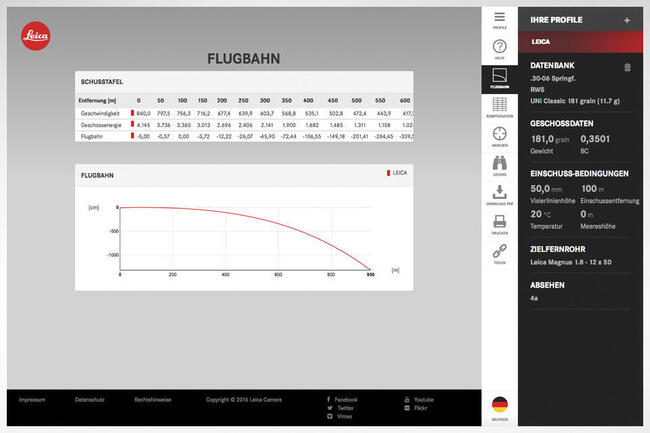 Leica Ballistics programme
Thanks to the ballistics program, available via the Leica Hunting App and online, you can create, save and manage your individual ballistics profile quickly and easily. The data is conveniently transferred via Bluetooth® to the Leica rangefinders Geovid 3200.COM, Rangemaster 3500.COM and Rangemaster 2800.COM. This allows you to calculate the trajectory for almost any ammunition, taking into account the parameters relevant to hunting, such as bullet range, sight-line height, temperature and altitude. For Leica riflescopes with ballistic reticle or rapid reticle adjustment (BDC) you can calculate tables for distance as well as click value.
To create your own customized ballistics data sets, click here.
Image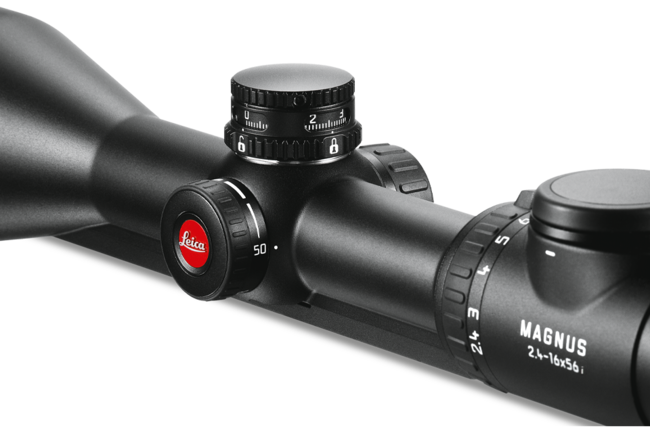 Leica BDC – Bullet Drop Compensation
The BDC lets you adjust the reticle to various shooting distances. Using the calibrations, the reticle can be set so that the exact impact point is guaranteed on the target. The BDC is easy to use and functions with absolute precision in all weather conditions.
Image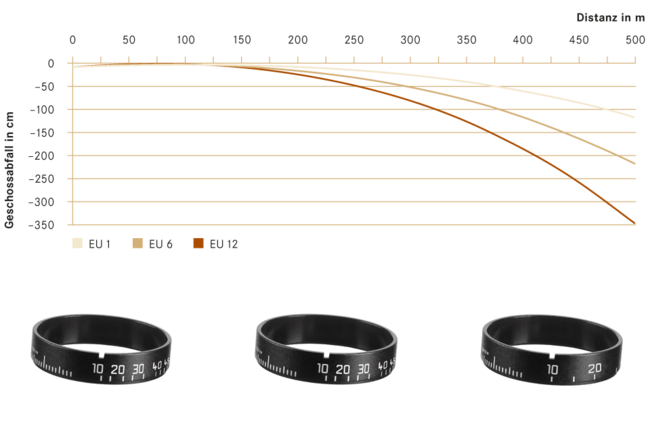 With a "direct dial ring", Leica's BDC works even more quickly and intuitively. Simply replace the standard engraved ring with a ring featuring range information, and start selecting the precise shooting distance. With 12 different rings to choose from, you can pick the best-fit one for your caliber and load.