Image

Leica Service Certificate
Image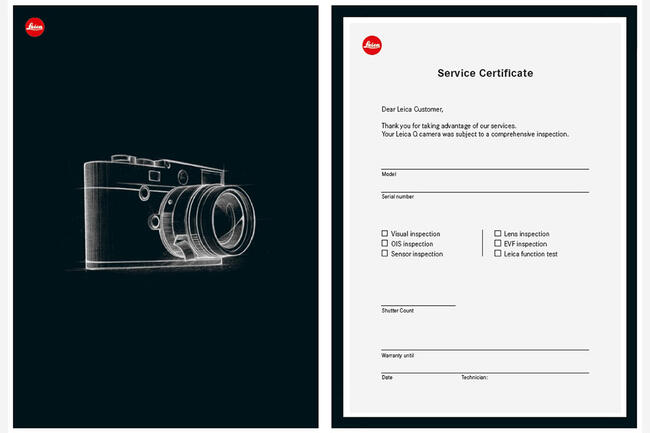 The Leica Service Certificate
As a special service, we offer the opportunity to have your products tested on our Leica-certified measuring and testing instruments according to specified criteria, regardless of the age of the product.
After your camera or lens has successfully passed the test, we will issue an original Leica Service Certificate including a warranty of 24 months from the date of inspection.
The Leica Service Certificate is available for the following products:
Lenses:
All Leica M lenses
All Leica SL lenses
Cameras: 
Leica M digital
Leica M9 | Leica M9-P
Leica M Monochrom  | Leica M Monochrom (Typ 246)
Leica M-E
Leica M (Typ 240) | Leica M-P (Typ 240)
Leica M (Typ 262) |        
Leica M10 | Leica M10-P | Leica M10-D
Leica M analogue
Leica M-A (Typ 127)
Leica MP
Leica M7
Leica M6
Leica SL and its followers.
Leica Q and its followers.
Prices & Terms
Service Certificate for M lenses: 300,- EUR (plus VAT) per lens.
Service Certificate for cameras:  300,- EUR (plus VAT) per camera.
If your product does not pass all test criteria, we will provide you with an optional quote for all the work necessary to successfully obtain the Service Certificate including the 24-month warranty. 
If you do not wish to have this work carried out, you will receive the Service Certificate at a price of 300,- EUR without the 24-month warranty. 
The conditions for Leica Service Certificates apply.    
Leica Service Certificate - AGB und Widerruf 2022
Leica Service Certificate - T&C Revocation 2022
How to send in your product
To pack your Leica product, we recommend bubble wrap or the original packaging with outer carton. To protect the product from shocks, please select a sturdy outer carton and cushion the inside with sufficient filling material.
Please kindly print and fill in the service form below and enclose it to your shipment as well.
Begleitschreiben Einsendung LSC 2022
Shipping Document LSC 2022
The test criteria for each product are
M lenses:
Visual Inspection                                         
Optical performance inspection    
Focal length measurement            
Focus position measurement   
Focusing mount inspection            
Aperture inspection                         
Leica M cameras
Visual Inspection       
Leica Production Test     
Sensor Inspection       
Viewfinder Inspection     
Shutter Speed Inspection                  
Shutter Counter                                 
Leica SL camera
Visual Inspection       
Leica Production Test                     
Sensor Inspection                              
EVF Inspection                                   
OIS Inspection                                    
Shutter Speed Inspection     
Shutter Counter                                 
Leica Q
Visual Inspection       
Leica Production Test                       
EVF Inspection         
OIS Inspection         
Shutter Speed Inspection                  
Lens Inspection       
Shutter Counter