Image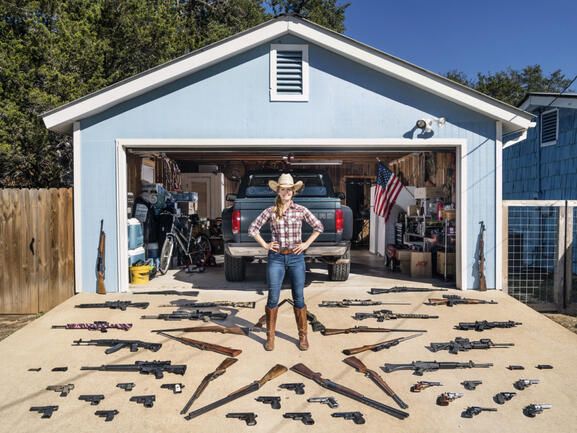 Die Leica Galerie Salzburg präsentiert vom 6. April bis Juli 2022 drei ausgewählte Serien des Leica Oskar Barnack Awards. Zu sehen sind die Bilder des Gewinners aus dem Jahr 2020 Luca Locatelli, Gabriele Galimberti sowie Graciela Magnoni, beide aus der LOBA 2021 Shortlist. Ende der 70er Jahre wurde der Leica Oskar Barnack Award (kurz LOBA) als Hommage an Oskar Barnack ins Leben gerufen und nun bereits zum 41. Mal verliehen. Barnack hatte die Fotografie mit der Erfindung der ersten erfolgreichen Kleinbildkamera von Leica im Jahr 1914 revolutioniert. Unter den bisherigen Preisträgern finden sich namhafte Fotografen wie Sebastião Salgado (zweifacher Gewinner), Jan Grarup, Dominic Nahr (erster Gewinner in der Kategorie Newcomer), Jane Evelyn Atwood, Eugene Richards und Chris Steele-Perkins.
Die gezeigten Serien:
Luca Locatelli "Future Studies" (Gewinner 2020)
Das Langzeitprojekt des italienischen Fotografen visualisiert die Erforschung neuer Wege, wie wir in Zukunft auf unserem Planeten überleben und den gewaltigen Umweltproblemen begegnen können. Locatelli hinterfragt in seinen Motiven das vorherrschende Konzept des permanenten wirtschaftlichen Wachstums und präsentiert aus seiner Serie, an der er bereits seit sieben Jahren arbeitet, eine Auswahl von Motiven die sich vor allem der Energiewende und der
zukünftigen Nahrungsproduktion widmen. Locatelli fotografierte abgeschaltete Kernkraftwerke und Hafenanlagen, in einem Nordsee-Windpark und im Braunkohletagebau in Deutschland. Er war in einer Windturbinen-Fabrik und in einem der größten Müllheizkraftwerke Dänemarks, in einem geothermischen Kraftwerk und in einem Gewächshaus in Island. Er besuchte weitere gigantische Gewächshäuser, einen Algenpark in den Niederlanden, eine Insektenfarm in Großbritannien und dokumentierte das weltweit größte Flugzeuglager in Arizona.
Seinen Stil hat der Fotograf selbst einmal als "dokumentarische Kunstfotografie" bezeichnet. Die Aufnahmen wirken neutral und sollen Neugier für eine fremde Welt wecken. So versteht Locatelli seine Serie als einen offenen Beitrag, über die Zukunft der Welt nachzudenken.
Luca Locatelli, 1971 in Italien geboren, hat nach einem Studium der Informationstechnologie mehr als zehn Jahre als Softwareentwickler gearbeitet, bevor er 2006 seine Arbeit als Dokumentarfotograf aufnahm. Seit 2016 wird er von internationalen Agenturen wie dem Institute for Artist Management vertreten und seit 2015 ist er Fotograf bei National Geographic. Im Rahmen seiner Arbeit als Fotograf und Filmemacher produziert Luca Locatelli seine Geschichten in Zusammenarbeit mit Journalisten, Umweltschützern und Wissenschaftlern, um seine Forschung weiter zu kontextualisieren.
Gabriele Galimberti "The Ameriguns" (LOBA 2021 Shortlist)
Privater Schusswaffenbesitz ist in der US-amerikanischen Gesellschaft fest verankert. Die extremen und exzentrischen Auswirkungen des verfassungsmäßigen Rechts zeigt der italienische Fotograf (*1977): Für seine Serie porträtierte er Familien und Einzelpersonen in ihren Häusern und auf ihren Grundstücken inmitten riesiger und stolz präsentierter Waffenarsenale.
Gabriele Galimberti wurde 1977 in Val di Chiana, Italien, geboren und begann seine Karriere als Werbefotograf. Heute widmet er sich internationalen dokumentarischen Langzeitprojekten, von denen einige in Buchform erschienen sind, darunter Toy Stories, My Couch Is Your Couch, The Heavens und The Ameriguns. 2021 wurde er beim World Press Photo Award für The Ameriguns mit dem ersten Preis in der Kategorie "Portraits" ausgezeichnet.
http://www.gabrielegalimberti.com/
Graciela Magnoni: Nosotras (Us) (LOBA 2021 Shortlist)
Momente der Freude und des einfachen Daseins: Die in Uruguay geborene Fotografin (*1961) präsentiert in ihrer intuitiven Serie den Alltag von Mädchen und Frauen in intensiven Bildern, die sie in dreizehn Ländern und siebzehn Städten aufgenommen hat. Titelgebend ist das "Wir" im Spanischen; die Motive feiern die Vielfalt, die gemeinsame Menschlichkeit und das Geheimnis des weiblichen Spirits.
Geboren 1961 in Montevideo, Uruguay. Sie ist Autodidaktin und hat einen B. A. in Journalismus (Brasilien) und einen M. A. in Massenkommunikation von der University of Minnesota (USA). Mehrere Jahre arbeitete sie als angestellte Fotografin für Istoé, ein brasilianisches Nachrichtenmagazin. Sie lebt in Singapur. Im Juni 2021 erschien ihr jüngstes Buch, Watan, über den indischen Bundesstaat Punjab.
Luca Locatelli, Gabriele Galimberti, Graciela Magnoni - "Leica Oskar Barnack Award"
06/04/2022 - 08/07/2022
Gaisbergstraße12
5020 Salzburg
Austria
+43 (0) 662 87 52 54
Opening hours
Tuesday - Friday 2 pm - 6 pm, Saturday 10 am - 2 pm