Image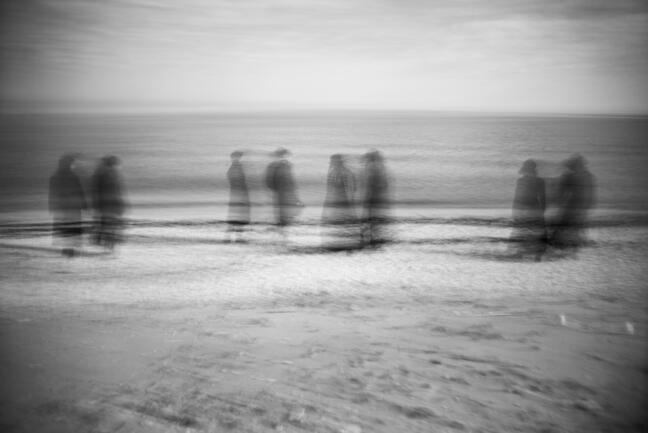 Mit der Ausstellung "Eligia Fantastica" präsentiert die Leica Galerie München vom 26. Oktober 2022 bis zum 7. Januar 2023 faszinierende Bilder des Ausnahmefotografen Emanuele Scorcelletti.
Wie kein anderer kreiert Emanuele Scorcelletti Fotografien breit gefächerten Genres: Neben den Porträts der Prominenz des Glanzes und Glamours, treffen märchenhafte Inszenierungen von Pferden auf klassische Straßenfotografien. Scorcelletti kombiniert in seinem Oeuvre unerwartete Welten miteinander und interpretiert selbst gewöhnliche Szenen, die alle schon einmal dagewesen sind, auf seine kreative Art und Weise neu. Im Jahre 2003 gewinnt Scorcelletti den World Press Photo Award in der Kategorie "Arts and Culture" mit einem einzigartigen Bild von Sharon Stone. Eine besondere Verbindung hegte er zu Karl Lagerfeld. Das Ergebnis sind sehr private und wohl komponierte Aufnahmen des großen Designers, die Seltenheitscharakter haben. Zu seinen Modellen zählen weitere Prominente. Es entstehen Bilder im Dialog, bevorzugt in Schwarzweiß, die vom Vertrauen zum Fotografen Scorcelletti erzählen, aber auch vom Spaß an der gemeinsamen Inszenierung.
"Er kann einfach alles: ob große Inszenierung mit aufwendigen Vorbereitungen für das perfekte Bild, fein beobachteter Moment aus dem Leben eines Prominenten oder scheinbar zufällig entstandener Schnappschuss. Jedes Bild kann für sich stehen, denn es gelingt dem grandiosen Fotografen einfach immer wieder, eine Geschichte zu erzählen, die den Betrachter zum längeren Verweilen verführt. Sein Stil ist dabei unverwechselbar – gleichwohl er die Abwechslung liebt, daher die verschiedenen Genres und Motivwelten kennt und sich dabei ebenso in den unterschiedlichsten gesellschaftlichen Milieus mit gleichbleibender Leichtigkeit bewegt.", beschreibt Karin Rehn-Kaufmann, Art Director und Generalbevollmächtigte Leica Galerien International, ihren Eindruck des Fotokünstlers.
Geboren ist Emanuele Scorcelletti mit italienischen Wurzeln 1964 in Luxemburg und lebt heute in Paris. Im jungen Alter von sechs Jahren bekam er von seiner Mutter seine erste Kamera geschenkt und entdeckte seine Leidenschaft für die Fotografie. Studiert hat er am "National Institute of Photography and Cinematography" in Brüssel. Zwischen 1989 und 2009 war er bei der Agentur "Gamma" in Paris unter Vertrag und arbeitet bis heute als freier Fotojournalist im Bereich der Presse-, Fashion- und Werbeszene. Die Ausstellung "Eligia Fantastica" umfasst 25 Bilder und ist vom 26. Oktober 2022 bis zum 7. Januar 2023 ist in der Leica Galerie München in der Maffeistraße 4 zu sehen.
Die Leica Galerie München ist Montag bis Freitag von 10.00 Uhr bis 19.00 Uhr und am Samstag von 10.00 bis 18.00 Uhr geöffnet. Der Eintritt ist frei. Die Fotografien der Ausstellung können käuflich erworben werden. Zeitgleich sind 20 weitere, beeindruckende Werke der Ausstellung im Sofitel Munich Bayerpost in der Bayerstrasse 12 in 80335 München zu sehen.
Emanuele Scorcelletti "Eligia Fantastica"
26/10/2022 - 07/01/2023
Maffeistraße 4
80333 München
Germany
Opening hours
Mon – Sat: 10:00 am - 6:00 pm
Leica Gallery Munich