Image
Super-Elmar-S 24 f/3.5 ASPH.
The ultra wide-angle lens
Expand your horizons
The Leica Super-Elmar-S 24 f/3.5 ASPH. (19 mm in 35 mm format) opens up an enormous range of creative opportunities in image composition – particularly in interior, architectural, and landscape photography.
At the same time, the lens is optimized for maximum contrast rendition and resolution from its widest aperture and guarantees a constantly high level of quality from its closest focusing distance to infinity.
The extraordinary degree of correction of this optical design is reflected, for example, in its almost complete freedom from distortion.
Image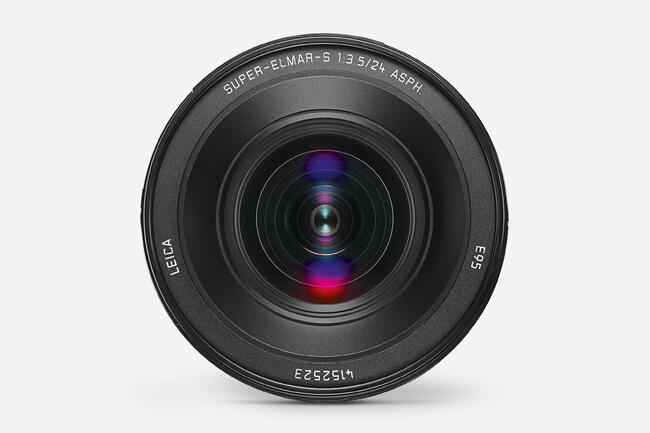 The highlights
Ideal for indoor, architecture and landscape photography
Nearly no distortion
Ideally suited for interior, architectural and landscape photography
Excellent imaging performance over the entire range and at all aperture settings 
Extremely fast
Creative use of sharpness and blurring for the plastic extraction of motif details
Best image quality up to the edges due to aspherical optics
Weather- and dust-sealed lens
Proofs of performance
Super-Elmar-S 24 f/3.5 ASPH. in Action
Image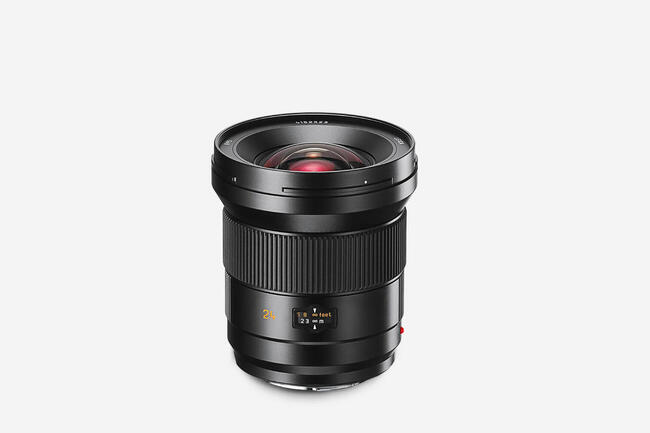 Of its twelve elements in ten groups, five are made of glasses with anomalous partial dispersion. Three of these are fluoride lens elements with particularly low dispersion for the correction of chromatic aberrations. Two aspherical surfaces located behind the iris and the aspherical surface of the front lens minimize monochromatic aberrations.
During focusing, only the middle group of three elements is moved. A floating element is moved independently and ensures that outstanding imaging performance is maintained at its closest focusing range.
Image
Image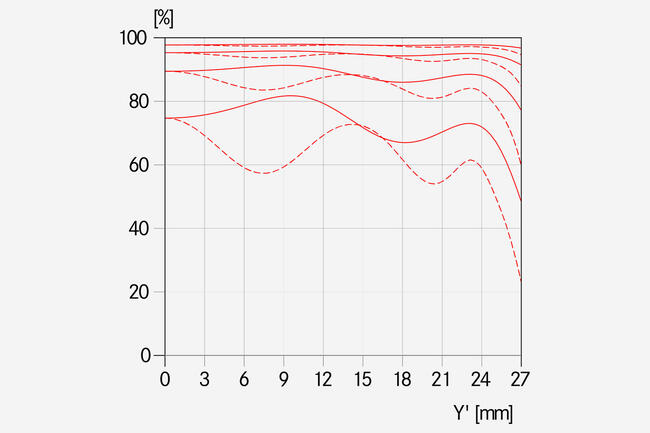 Image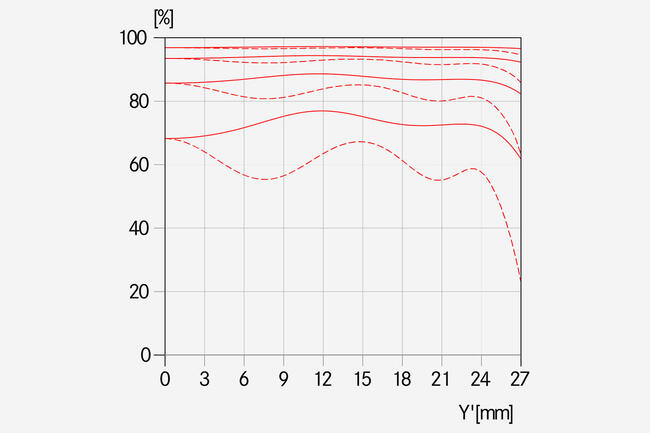 Modulation Transfer Function
The MTF is indicated both at full aperture and at f/5.6 and f/8 at long taking distances (infinity).
Shown is the contrast in percentage for 5, 10, 20 and 40 lp/mm across the height of the 35mm film format, for tangential (dotted line) and sagittal (solid line) structures, in white light. The 5 and 10 lp/mm will give an indication regarding the contrast ratio for large object structures. The 20 and 40 lp/mm records the resolution of finer and finest object structures.
Image
Image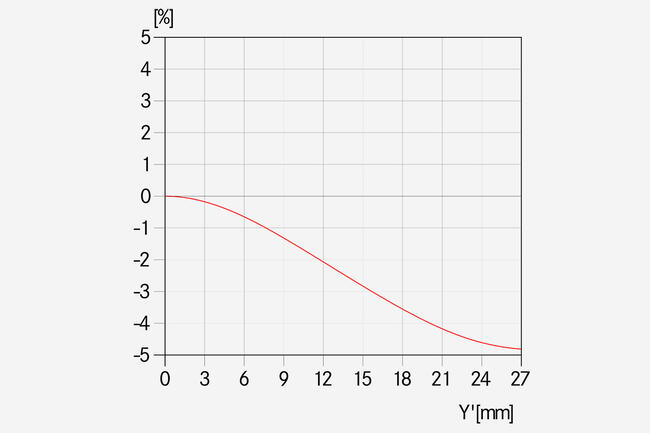 Image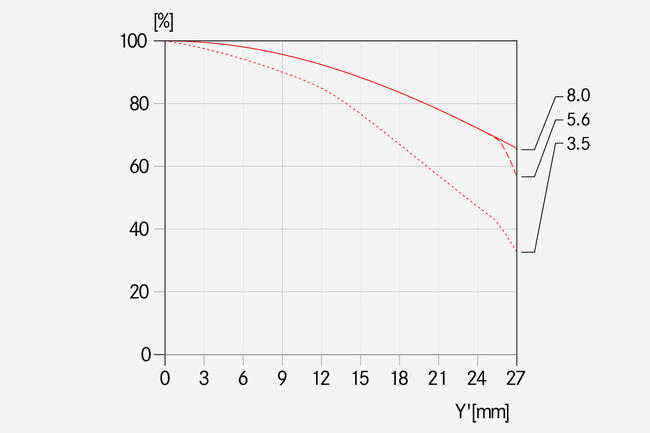 Distortion is the deviation of the real image height (in the picture) from the ideal image height. The relative distortion is the percentage deviation. The ideal image height results from the object height and the magnification. The image height of 27.04mm is the radial distance between the edge and the middle of the image field for the format 30mm×45mm.
The graph of the effective distortion illustrates the appearance of straight horizontal and vertical lines in the picture.
Vignetting is a continuous decrease of the illumination to the edges of the image field. The graph shows the percentage loss of illumination over the image height. 100% means no vignetting.
Technical data
| | |
| --- | --- |
| Order no. | 11054 |
| Image angle (diagonal, horizontal, vertical) | 96.6° / 86.5° / 63.9°, corresponds to approx. 19 mm focal length in 35 mm format |
| Optical design |   |
| Number of lenses / groups | 12 / 10 |
| Entrance pupil | infinity: 83.38 mm (in front of bayonet in incident light direction) |
|   | close focus limit: 83.79 mm (in front of bayonet in incident light direction) |
| Focusing range | 0.4 m to ∞ |
| Distance setting |   |
| Scales | Combined meter/feet graduation |
| Smallest object field | 349 mm × 533 mm |
| Largest reproduction ratio | 1 : 11.3 |
| Aperture |   |
| Setting/Function | Electronically controlled diaphragm, set using setting / selection dial on camera, including half values |
| Lowest value | 22 |
| Bayonet | Leica S bayonet |
| Filter mount/Lens hood | External bayonet for lens hood (included), internal thread for E95 filter, filter mount does not rotate |
| Dimensions and weight |   |
| Length to bayonet mount | approx. 112 / 138 mm (without / with lens hood) |
| Largest diameter | approx. 101 / 150 mm (without / with lens hood) |
| Weight | approx. 1260 g |