Image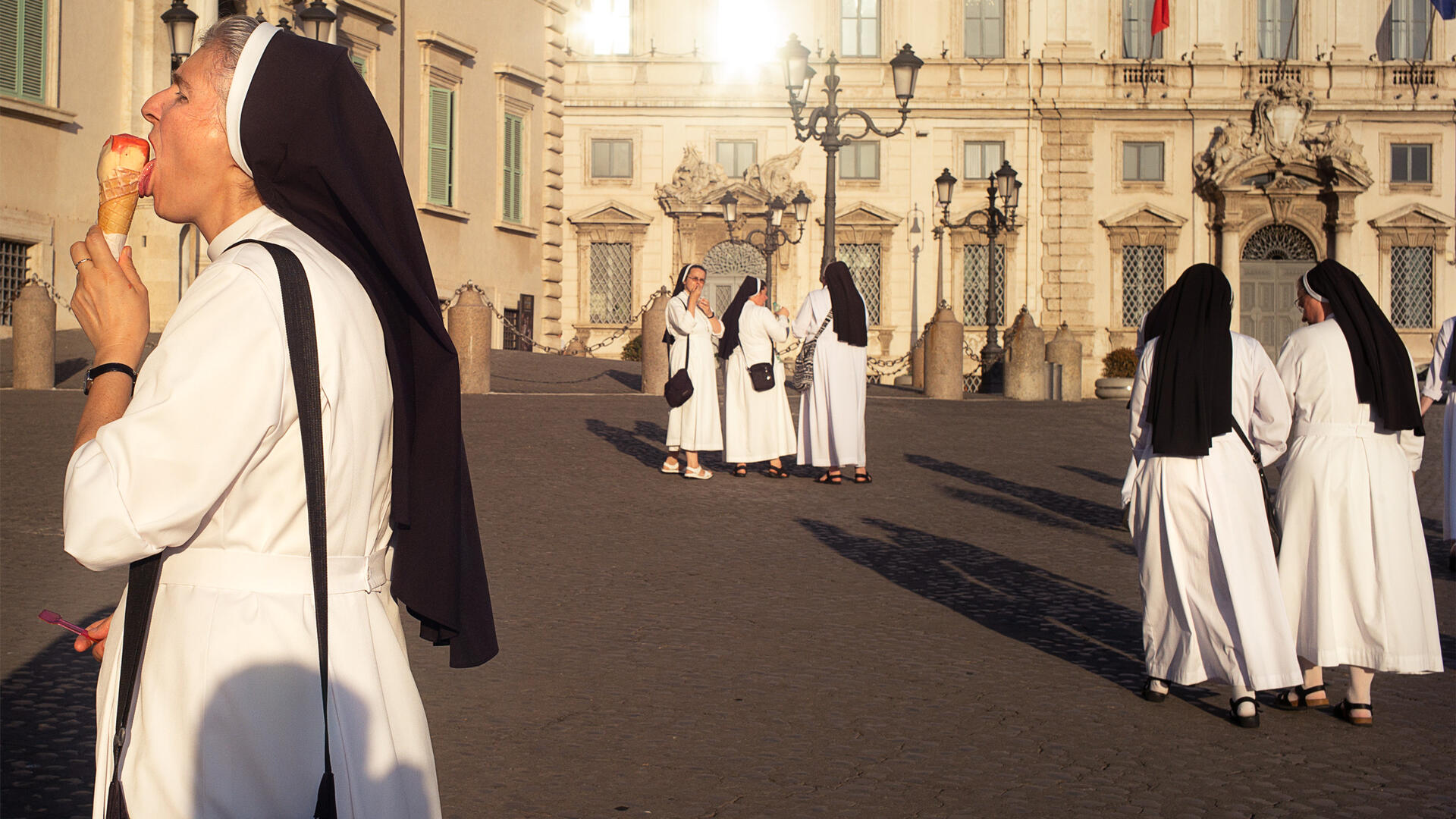 The Little Sins
of the World
Deserve Witnesses
EMOTION SEEKER
This picture was shot in Rome, 2019. It's part of an ongoing personal project, Colour Walk, which gathers colourful scenes of life from all around the world. I took this picture at Piazza Del Quirinale during my first trip in this city. My attention was immediately drawn to the many nuns strolling as the Vatican was nearby.
I was interested in them and their specific clothes, and the fact that they only move around in small groups. I found them incredibly photogenic and I took many pictures of them. This fun and joyful picture struck me because of the intense emotion it gives, and, in a way, this shot sums up my entire journey visiting Rome. I remember the nuns were quite far away from me when I saw them and so I ran quickly towards them. I realised then that the Piazza was completely empty of tourists, and there were only the nuns and me…
Here was my chance! I eagerly took several snap shots before this magical moment was over. I know these magical moments only last a few seconds, so I needed to be quick.
The Little Sins of the World Deserve Witnesses
Image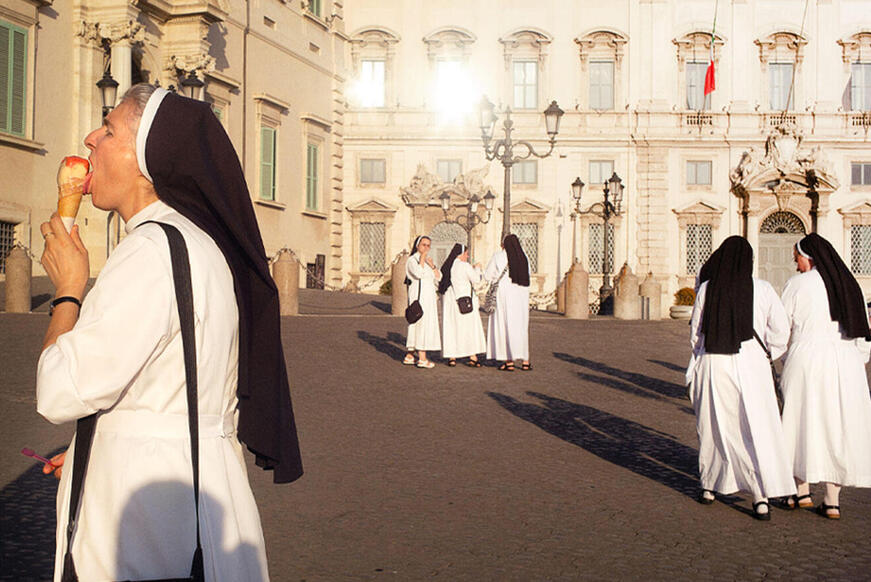 Image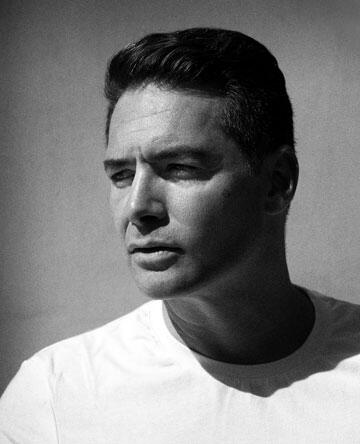 Leica's cameras are the only with which I can take snapshot.
Pierre Belhassen
Image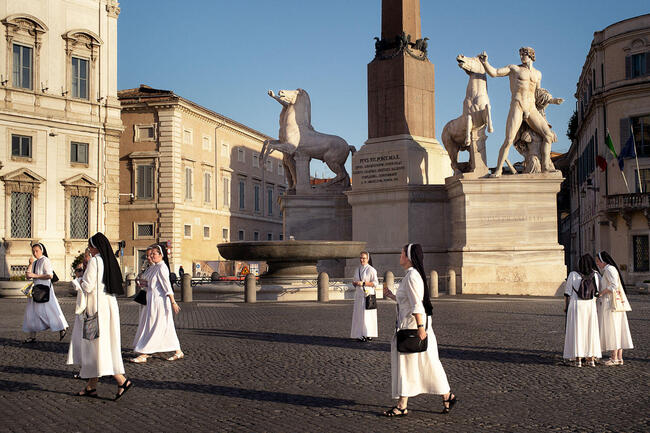 Image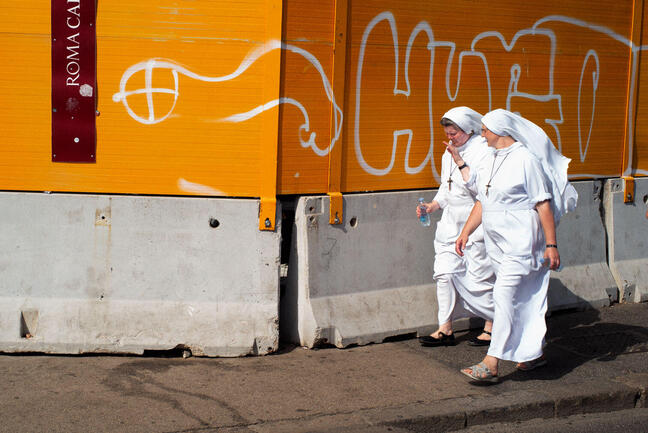 I'm a freelance photographer based in Marseille. I pursued audio-visual studies and then I discovered photography in 2005. I immediately became an avid fan of this art.
The passion for pictures and the endless possibilities photography offers made me turn my hobby into a career. My style is Street photography, a straightforward approach without any staging of daily life. It's a question for me of witnessing characteristic cultural signs of a period as well as creating my own narrative universe, seeking the extraordinary in the everyday ordinary, as well as revealing the poetry of life. Your eyes learn to observe, they learn to read and dissociate shapes, light and colours. When photography connects with you, it becomes a discipline of life.
ON LEICA: FLAWLESS
My uncle who lived in Tunisia was a Leica fan. When he died, I inherited a superb Leica M2 that I still have. Several years later I bought an M7 that helped me create my photographic universe. With the rise of digital photography, I knew I had to move on from film to digital, so I decided to go for an M240. This camera lets me do my work with serenity.
The way a Leica camera is engineered is flawless. It's a discreet and sturdy device with exceptional image quality. I have a deep connection with the M series that pushes me to dream my image. I also use a lot of hyperfocal techniques to only focus on the frame and not the technic. For me, Leica cameras are not tools but instruments, just like the ones musicians play.