Image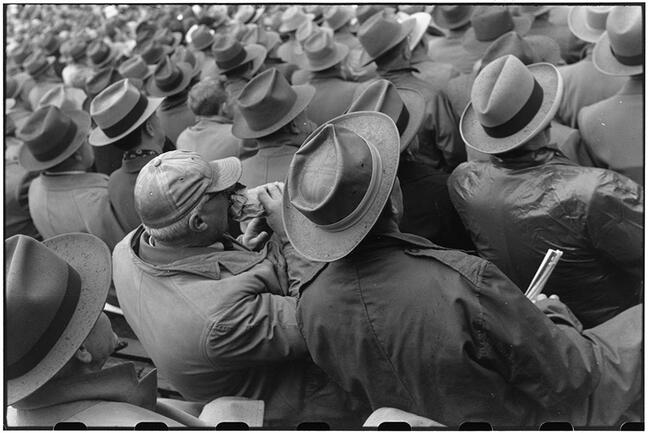 Leica Camera Japan is pleased to announce two simultaneous photo exhibitions featuring sports themed scenes from around the world captured by two internationally renowned Magnum photographers, Elliott Erwitt (LEICA GALLERY KYOTO) and Chris Steele-Perkins (LEICA GALLERY TOKYO). Both exhibitions will open on June 2, 2021.
LEICA GALLERY KYOTO will exhibit 15 carefully selected photos showcasing Elliott Erwitt's unique perspective on the role of sport in people's daily lives.
LEICA GALLERY TOKYO will exhibit 14 photographs by Chris Steele-Perkins depicting people enjoying sports in Central America, Africa, Europe and Asia in a variety of real-life settings, from schoolyards to stadiums.
Since time immemorial, people have loved and enjoyed sports in various ways – competitive sports, recreational sports, as participants or as spectators. Since its founding in 1947, Magnum Photos has been a witness to history and documented the times as seen through the eyes of Magnum photographers. The photographs presented here are sports scenes in real-life settings captured in different parts of the world by two renowned Magnum photographers. These images remind us that sports have always enriched the lives of people everywhere, whether in their daily lives or on special occasions.
VENUE DETAILS:
LEICA GALLERY KYOTO (located on the 2nd floor of Leica Store Kyoto)
Theme: Motions and Emotions in Sport - Elliott Erwitt
Address: Gionmachi Minamigawa 570-120, Higashiyama-ku, Kyoto City
Phone: 075-532-0320
Schedule: June 2 (Wed.) – August 26 (Thu.), 2021
LEICA GALLERY TOKYO (located on the 2nd floor of Leica Store Ginza)
Theme: Motions and Emotions in Sport - Chris Steele-Perkins
Address: Ginza 6-4-1, Chuo-ku, Tokyo
Phone: 03-6215-7070
Schedule: June 2 (Wed.) – August 24 (Tue.), 2021
Photographer Profile: Elliott Erwitt
Born in Paris in 1928 to Russian parents, Elliott Erwitt spent his early childhood in Milan. When he was eleven his family moved to the United States, where he joined Magnum Photos at the age of twenty-five. He has worked for a wide variety of media and projects ranging from journalistic reportage to commercial and artistic assignments. A decidedly humanist photographer, he is best known for his witty and humorous images and his signature "dog photos". His most recent publication (2020) is "Found, Not Lost", a collection of previously unpublished work.
Photographer Profile: Chris Steele-Perkins
Born in Myanmar in 1947, Chris Steele-Perkins moved to England in 1949. He studied chemistry and psychology at university while working as a photographer and picture editor for the student newspaper. In 1971 he began working as a freelance photographer in London, with a particular interest in social inequality, youth subcultures and the Paralympics. He has won numerous photography awards, including the Leica Oskar Barnack Award in 1988 and the Robert Capa Gold Medal Award in 1989. He has been a member of Magnum Photos since 1979 and is currently based in London and Tokyo. He has published several photobooks, including "The Teds", "Afghanistan" and "Fuji".
'Motions and Emotions in Sport' - Exhibition of photographs by Elliott Erwitt at LEICA GALLERY KYOTO
02/06/2021 - 26/08/2021
570-120 Gionmachi minamigawa Higashiyama-ku
Kyoto City,
Japan
Opening hours
Tuesday - Sunday 11.00 am - 7.00 pm
Gallery Kyoto