Image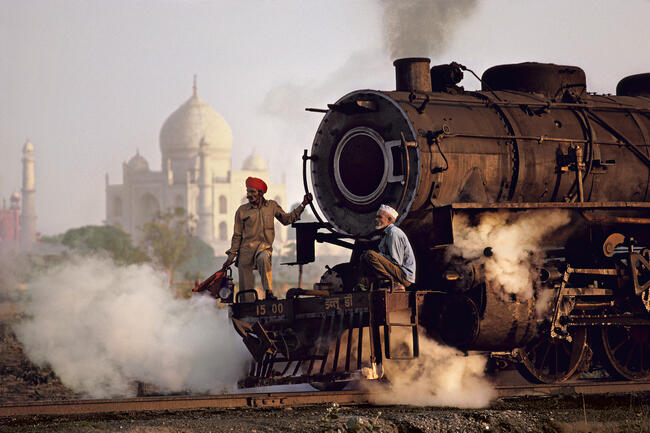 Seine Fotografien erzählen Geschichten und haben Geschichte geschrieben. An der Schnittstelle von Reportage-, Porträt-, Reise- und Landschaftsfotografie gehört der Amerikaner Steve McCurry (*1950) seit langem zu den ganz großen Fotografen unserer Zeit. Die Ausstellung "The Eyes of Humanity" in der Leica Galerie Düsseldorf umfasst eine Auswahl von rund 45 Farb-Motiven: Bilder, die einen wunderbaren Überblick auf sein umfangreiches Lebenswerk geben. Die Fotografien entstanden in den letzten vier Jahrzehnten in insgesamt 26 Ländern. Dabei sind Motive von beeindruckenden Landschafts- und Alltagsszenen, vor allem aber auch Aufnahmen, die vom Schicksal der unterschiedlichsten Menschen und Lebensgemeinschaften auf der Welt berichten.
McCurrys Werk steht in der Tradition einer humanistischen Fotografie und überwindet sprachliche und kulturelle Grenzen. Der unerschütterliche Optimismus und seine Menschenkenntnis ließen ihn immer wieder Zugang und Vertrauen zu Menschen finden und Aufmerksamkeit auf diejenigen zu lenken, die ansonsten unbeachtet blieben. Mit unermüdlicher Energie und empathischer Neugier zeigt er in seinem Werk die betörende Schönheit, aber auch die Abgründe der Welt.
Steve McCurry wurde am 23. April 1950 in Philadelphia, Pennsylvania, USA, geboren. Nach seinem Universitätsabschluss 1978 begann er weltweit zu reisen und zu arbeiten. McCurry hat für alle wichtigen internationalen Magazine gearbeitet, zahlreiche Bildbände veröffentlicht und wurde mit prestigeträchtigen Auszeichnungen geehrt, darunter die Robert Capa Gold Medal, der National Press Photographers Award sowie mehrfach beim World Press Photo Award. Seit 1986 ist er Contributor der Agentur Magnum. Er war der erste Fotograf, der von der Leica Camera AG 2011 in die Leica Hall of Fame berufen wurde.
Die Ausstellung "The Eyes of Humanity" ist vom 4. November 2022 bis zum 31. Januar 2023 von Montag bis Samstag jeweils von 10.00 bis 19.00 Uhr in der Leica Galerie Düsseldorf in der KÖ Galerie (Königsallee 60) zu sehen. Der Eintritt ist frei.
Die Bilder sind als Print in verschiedenen Größen zu erwerben.
Steve McCurry "The Eyes of Humanity"
04/11/2022 - 31/01/2023
Königsallee 60
40212 Dusseldorf
Germany
Opening hours
Monday - Saturday: 10 am - 19 pm
Leica Gallery Dusseldorf