Image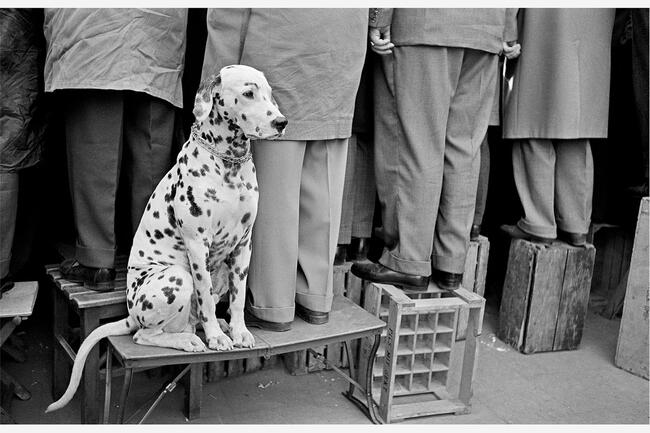 © Walter Vogel | Dalmatiner, Kein Interesse an Fußball, Düsseldorf, 1956
Image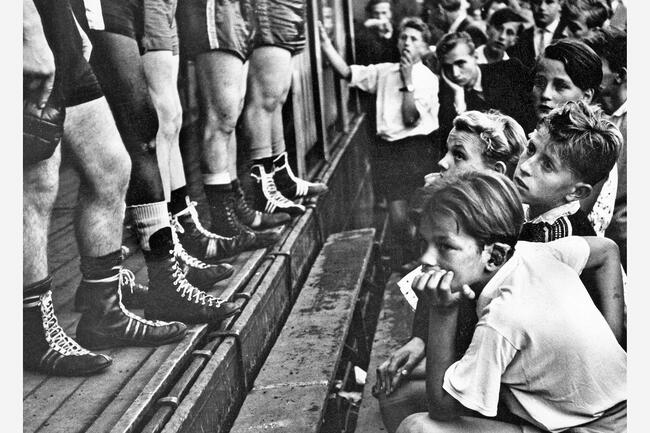 © Walter Vogel | Düsseldorf, Boxerbeine, 1956
Image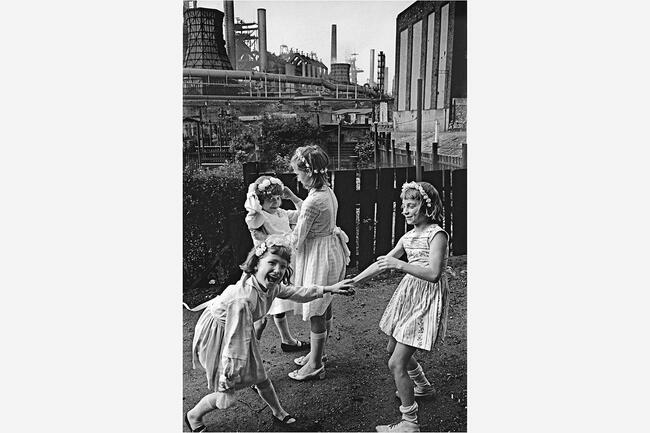 © Walter Vogel | Kommunionskinder, August-Thyssenhütte, Duisburg-Bruckhausen, Ruhrgebiet, 1965
Image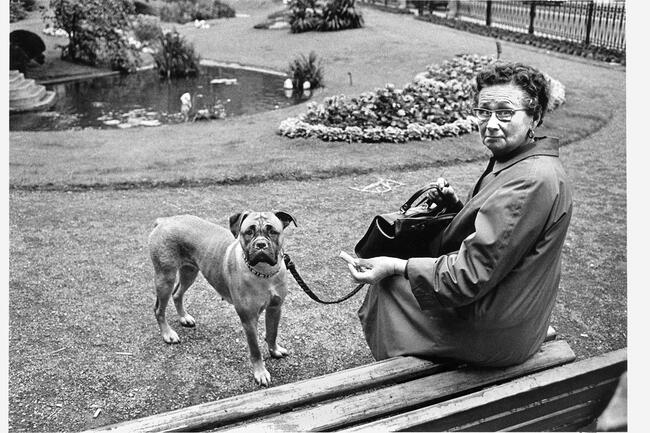 © Walter Vogel | Lüttich, 1973
Image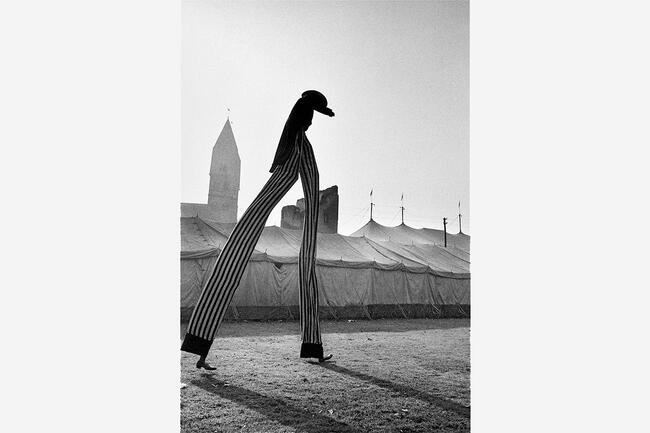 © Walter Vogel | Stelzenläufer, Clown Enders vor der Kulisse, Spanischer National Circus, Koblenz, 1965
Image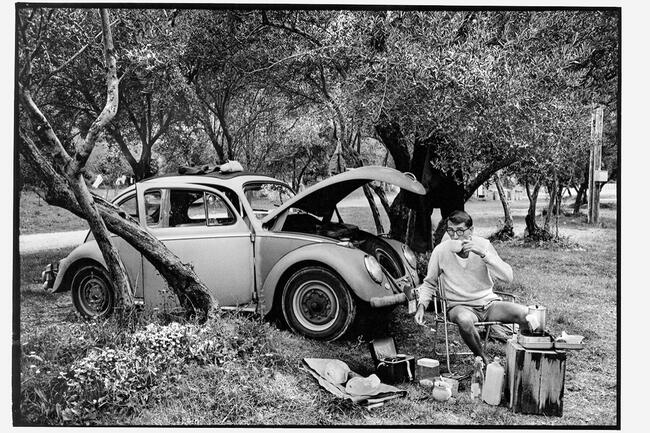 © Walter Vogel | Campingplatz, Istrien, 1964
Image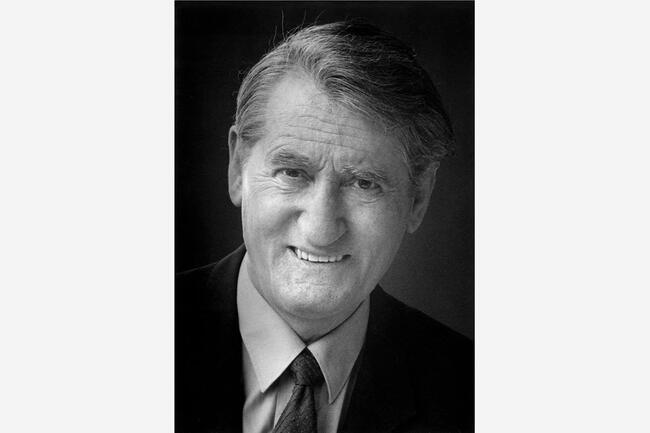 © Walter Vogel | Walter Vogel, Portrait, 2000
Image
© Ragnar Axelsson | Ins Eis geschrieben
Image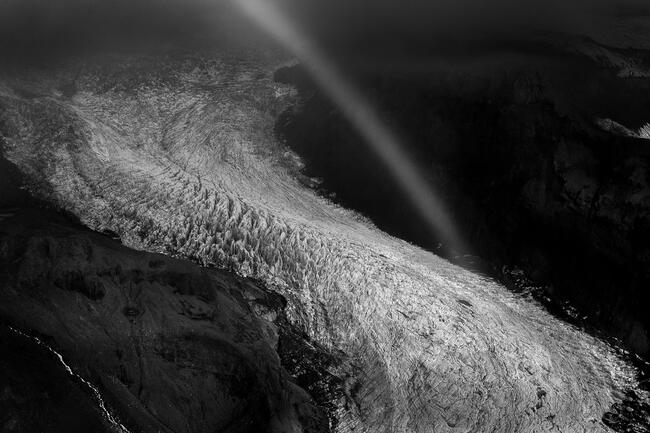 © Ragnar Axelsson | Ins Eis geschrieben
Image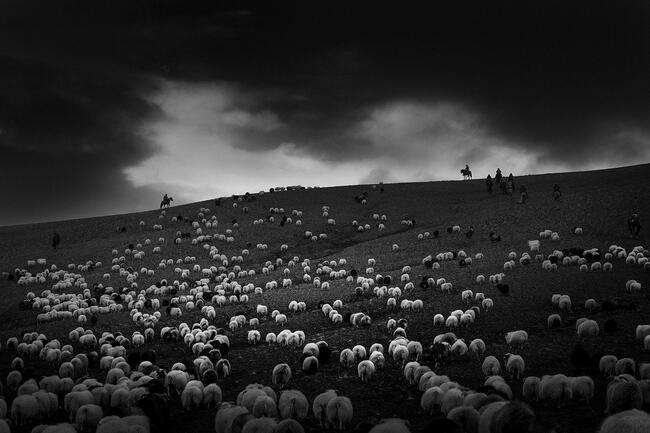 © Ragnar Axelsson | Ins Eis geschrieben
Image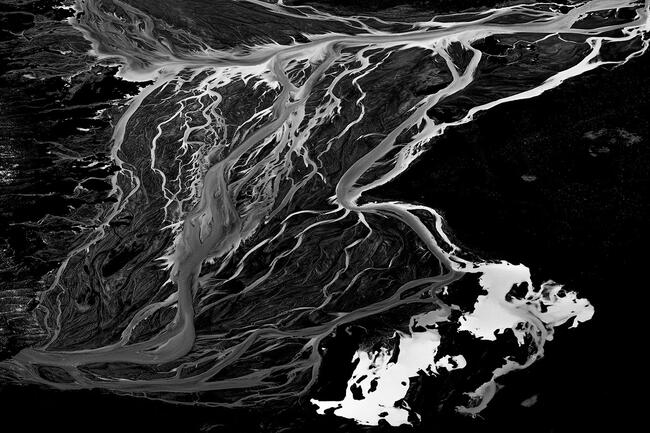 © Ragnar Axelsson | Ins Eis geschrieben
"There must be something magical about a photography. It is this special atmosphere that makes the viewer remain in front of the picture."
His thematic repertoire is varied, his style unmistakable. Whether you're a chronicler of the Ruhr area, a sophisticated travel photographer, an enthusiastic circusist, a night owl travesty photographer or an enjoyable espresso lover: you can always recognize the chronicler of his time, the classic picture reporter who created unforgettable motifs with an experienced eye and perfect precision.
Today Walter Vogel is one of the great German reportage photographers, but he found his way into photography comparatively late, or rather, the courage to make his passion for photography his actual profession. Although he had already discovered photography as a teenager with his first camera, after his training he worked for many years as an engineer in the chemical industry. Already the money earned in the apprenticeship as a machine fitter was carefully saved and already in 1954 he could afford a Leica IIf.
At the age of thirty he made a new start in his career: Vogel began studying photography with Otto Steinert at the Folkwangschule in Essen. Immediately after graduating, he went into business for himself, and in addition to advertising and fashion photography, magazine photography became an important pillar of his career. With his first self-published book (For Sale, 1980), Vogel discovered a new task, because in addition to the photographs, he also wrote the accompanying texts. His espresso book of 1993 at the latest was his journalistic breakthrough. This project, too, was commissioned free of charge, but Vogel's flair for the subject - even before it became a trend - was to enable him to produce a whole series of publications around the world of coffee. A large number of illustrated books have long since appeared, presenting the photographer's entire spectrum. With his pictorial language characterised by authenticity, precision and sometimes sublime humour, Vogel is one of the great German photographers of the analogue age - the award for his inclusion in the Leica Hall of Fame is a happy further proof of his appreciation and recognition of his life's work spanning more than five decades.
WALTER VOGEL
Born on 18 October 1932 in Dusseldorf. After his apprenticeship as a machine fitter, he worked as a mechanical engineer, from 1963 studied at the Folkwangschule with Otto Steinert, graduated in 1968, then became an independent photo journalist in Düsseldorf. 1954 Acquisition of Leica IIf, later the M 2 became his preferred reportage camera, Leicaflex SL 2, Leicaflex SL 2 MOT and a Leica M 5 expanded his equipment later. First publications in magazines since 1954, 1964 award at the World Press Photo Competition. From 1977 to 2002 studio in Frankfurt, then again in Düsseldorf. In 2016 Vogel gave most of his estate to the Stiftung Preußischer Kulturbesitz (Prussian Cultural Heritage Foundation), where he is supervised by bpk (Picture Agency for Art, Culture and History).
Leica Hall of Fame
Images that have touched the world, moments that remain unforgotten: Leica Camera AG invites outstanding photographers to the Leica Hall of Fame - photographers who have made a difference with their view of the world. Their work is evidenced by pictorial icons that have burned their way into our collective memory, touchingly and timelessly illustrating the human condition.
Steve McCurry was the first to receive the Leica Hall of Fame Award in 2011, followed by Barbara Klemm, Nick Út, René Burri, Thomas Hoepker, Ara Güler, Gianni Berengo Gardin and Joel Meyerowitz. Last year Bruce Davidson and Jürgen Schadeberg were honored and this year Walter Vogel will be appointed to the Leica Hall of Fame.
Ragnar Axelsson - Written in Ice
"Iceland's glaciers are like a book."
Ice, cold and stunning beauty: the fact that the Arctic has so much to offer is evident in the impressions captured by the Icelandic photographer. Ragnar Axelsson – who has chosen to go by a shortened version of his name, RAX – is not only the most acclaimed photographer from his homeland, but also enjoys great renown around the world as an award-winning, documentary photographer.
Axelsson has been taking photos of the glaciers and Arctic landscapes, as well as the people who live and work under the region's extreme conditions, for many years now. He is a passionate Leica photographer, who got his first Leica, a Leica IIIg, from his father when he was just ten years old. He has frequently worked with a Leica SL, but this autumn he was one of the first photographers given the opportunity to try out the new SL2: he took the camera on another trip to the polar region. 
Hall of Fame 2019 - Written in Ice
14/11/2019 - 22/03/2019
Leica Camera AG Am Leitz-Park 5
35578 Wetzlar
Germany
+49 (0) 6441 - 2080-333
Opening hours
The Leica Gallery Wetzlar is open on Monday to Sunday from 10am - 6pm.
Gallery Wetzlar