Image
Image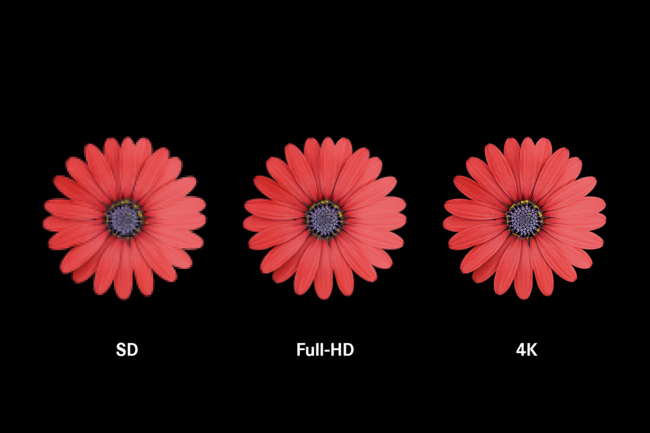 4K Resolution
Resolution determines the fineness of the image details in a picture. The Leica Cine 1 offers a 4K resolution with 3840 x 2160 pixels to enjoy your favourite films and series in the highest quality. The associated Digital Light Processor (DLP) has a native resolution of 1920 x 1080 pixels, which enables a 4K resolution with small dimensions, thanks to XPR Pixelshift technology.
Image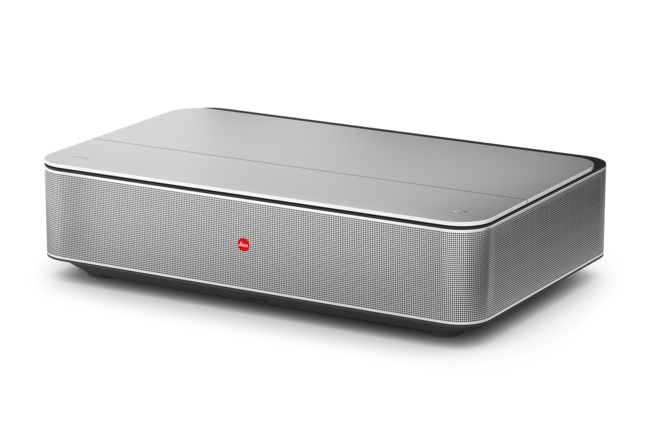 50 W Dolby Atmos® Surround Sound
Experience pure cinema sound with the Leica Cine 1 in your own living room. The 50 W Dolby Atmos® surround sound offers a unique listening experience for your home cinema. Dolby Atmos® is an advanced audio technology that makes the sound of films and series appear even more realistic by radiating the sound to the ceiling and reflecting it from there. This technology creates a spatial sound experience format previously only found in cinemas. Immerse yourself in your favourite movies and series and enjoy sound that puts you right in the middle of the action.
Image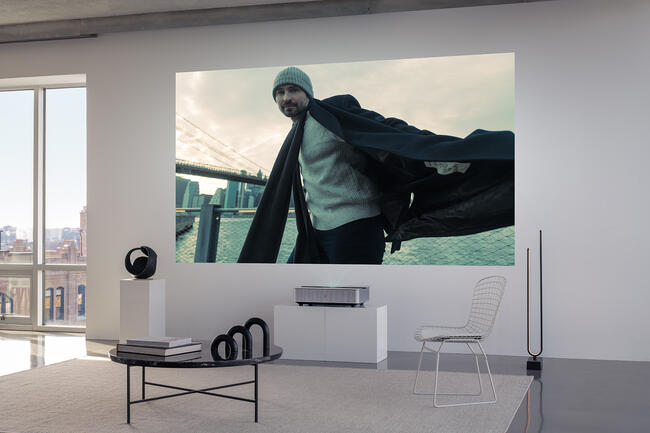 60 Hz
Smooth and natural transitions: The 60 Hz refresh rate ensures that movements are extremely smooth, especially in fast-paced scenes, sports broadcasts and gaming.
Image
All-in-One Entertainment System
The Leica Cine 1 offers all of the state-of-the-art functions of a modern smart TV and more: The intuitive smart TV interface includes VIDAA voice control, integrated triple tuner, Apple Airplay and direct access to all TV services and streaming platforms. All the content you want is played in the best quality, from TV programmes, to gaming, to your very own film library.
Image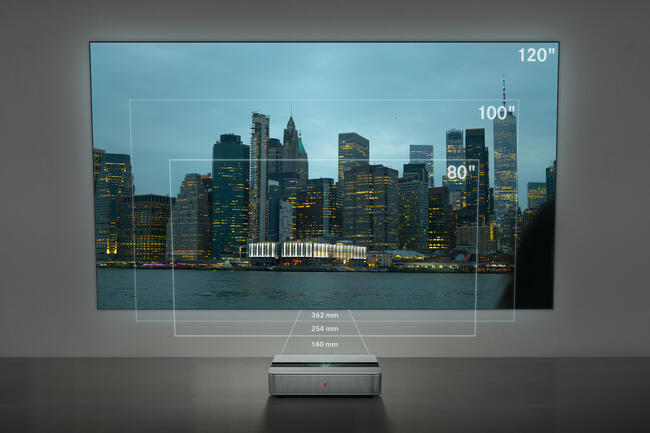 ALR Canvases & Screens 
Leica recommends using a high-contrast screen with ALR (Ambient Light Rejection) functionality for the best possible projection quality, specifically designed for the Leica Cine 1 and fixed to the wall. The ALR function ensures that disturbing ambient light is suppressed and that the projected light is directed towards the viewer. Those who prefer more flexibility can opt for roll-up screens, which are ideal for installing in furniture. More information about the various options is available from your Leica Store or Leica dealer.
Image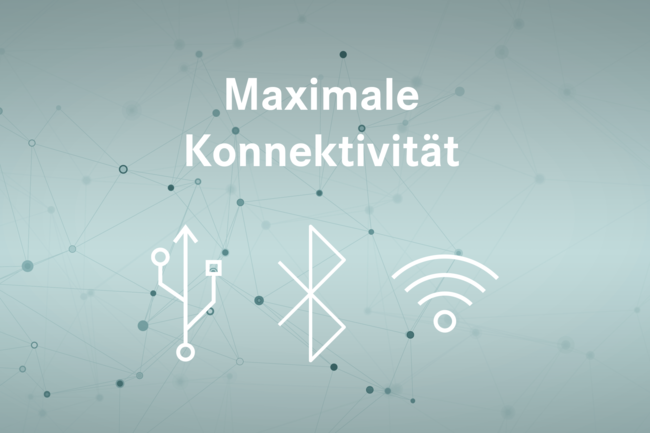 Connectivity
Leica Cine 1 connects: Whether you use it with Bluetooth, Wi-Fi or Apple Airplay. The smart Laser TV is also equipped with an integrated triple tuner, three HDMI and two USB ports, plus a CI+ slot. From television programmes to gaming, to your personal library, enjoy the content you want in the best possible Leica quality.
Image
Dolby Vision®
Dolby Vision® is a dynamic image optimization system with the goal of reproducing an image as close to reality as possible. This is only made possible when the recording devices, as well as the image transmission and end devices are able to transmit and process this standard – which the Cine 1 is able to do, thanks to its powerful image processor and image processing algorithms.
Image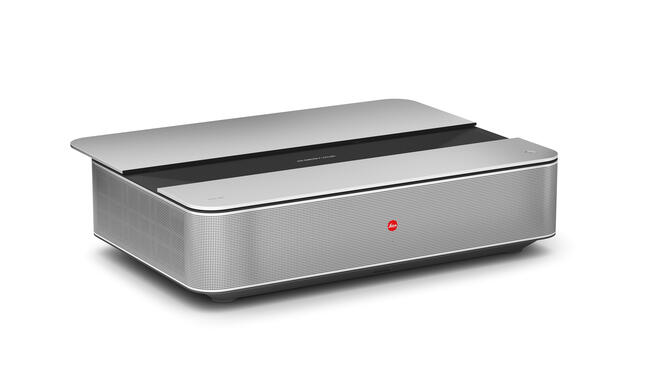 Dust Cover
The unique Leica design underlines the high-quality, thoroughly thought-out product design and functionality of the Leica Cine 1 in its most beautiful form. It also serves to protect the internal technology from dust and exemplifies Bauhaus design, adding value to the room – even when it's turned off.
Image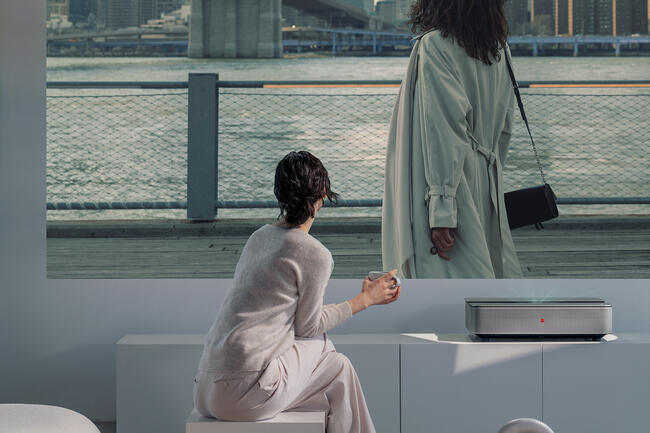 Eye-friendly
In contrast to traditional televisions, the Leica Cine 1 projects the light onto the screen or wall and not directly towards your eyes. Therefore, the high-energy and particularly stressful part of the blue light is reduced and does not strain the eyes.
Image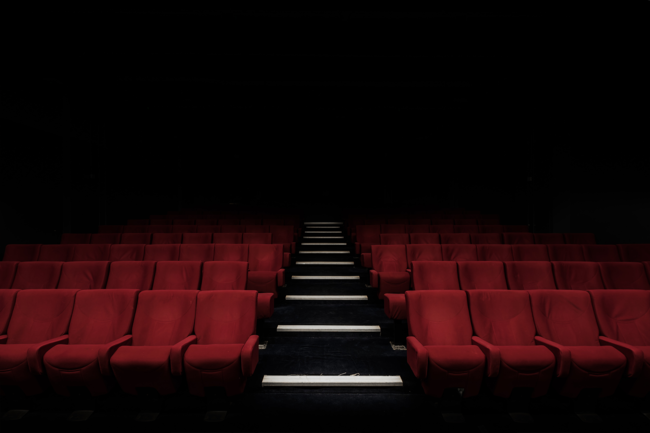 Filmmaker Mode™
The optional Filmmaker Mode™ ensures that the image remains as close as possible to the original film look, as specified by the director during production. The image is reproduced in high and authentic original quality due to reduced processing. This means that when Filmmaker Mode™ is activated, all potentially disruptive image processing effects are removed, for example: Noise reduction, image sharpness, and dynamic backlighting.
Image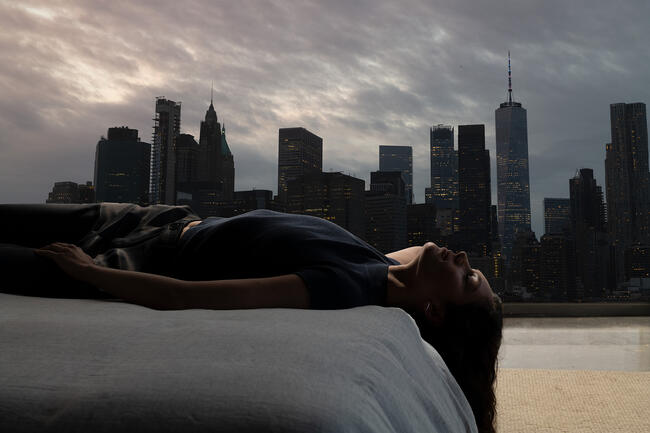 HDR10+
HDR10+ is a dynamic image enhancement standard that is supported by many broadcasters and streaming service providers. HDR10+ stands for High Dynamic Range including 10-bit colour depth and dynamic brightness adjustment. Visibly better image adjustments are enabled within a larger range of brightness than in the existing SDR, HDR or HDR10 standard, from the darkest to the brightest tone.
Image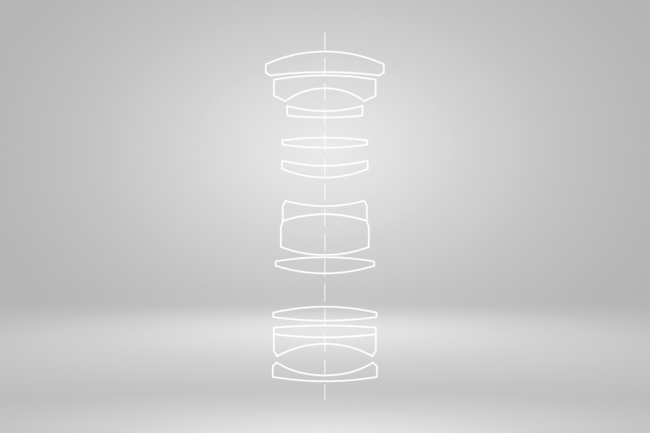 Leica Summicron Lens 
The innovative and powerful ultra-short-throw lens with several aspherical lenses is assembled and adjusted according to Leica standards to ensure consistently high imaging performance. The lens is precisely adjusted to a fixed image size of 80*, 100 or 120 inches. This ensures that the factory setting and fine tuning, in contrast to focusable lenses, is permanently optimally preserved. In addition, in the projector's dynamic and standard mode, the optics and digital image processing have been tailored to one another in such a way that the well-known Leica look is also visible in the Leica Cine 1.
* Only available in Europe, excluding UK.
Image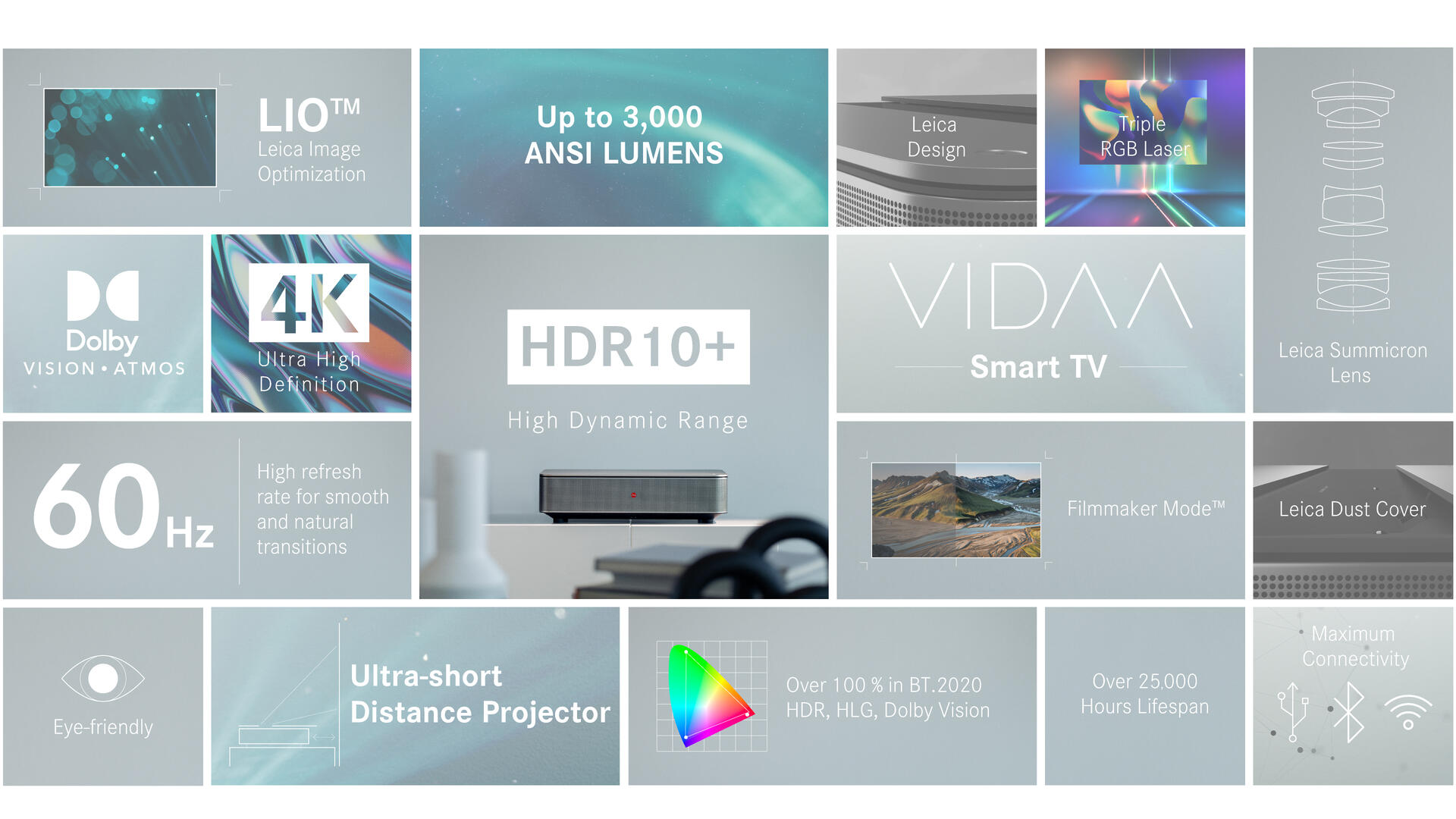 Image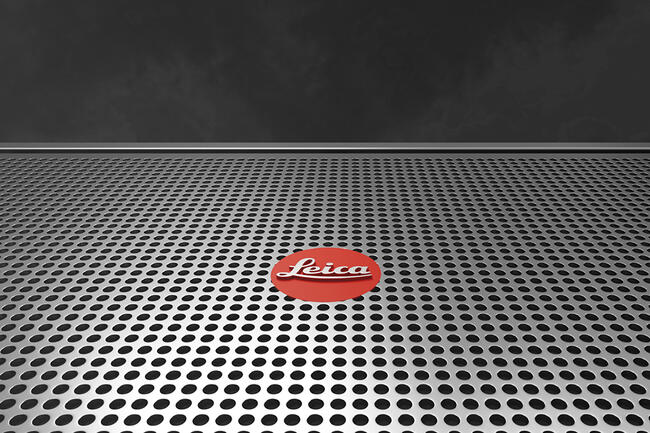 LIO™ (Leica Image Optimization)
Leica transmits the brand's many years of expertise in digital image optimization to the Leica Cine 1. You can enjoy the impressive picture properties on the screen in your very own home without any loss of quality thanks to the special algorithms used by Leica Image Optimization (LIO™) technology, achieving natural colour reproduction, detailed colour gradations and excellent contrast.
Image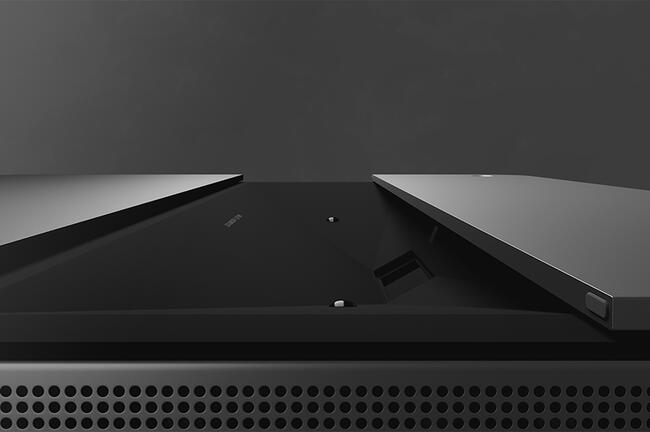 Micromirror (DMD, Digital Micromirror Device)
A micromirror is a microelectromechanical component for the dynamic modulation of light. Due to the miniaturised structure and the electrical, mechanical and optical properties, it belongs to the group of MEMS or MOEMS (Micro-Electro-Mechanical or Micro-Opto-Electro-Mechanical System). A common application is image projection in beamers, especially the powerful DLP projectors. DLP stands for Digital Processing Light. A microsystem (MEMS) is a miniaturised device, an assembly or a component whose components have the smallest dimensions in the range of 1 micrometre and work together as a system.
Image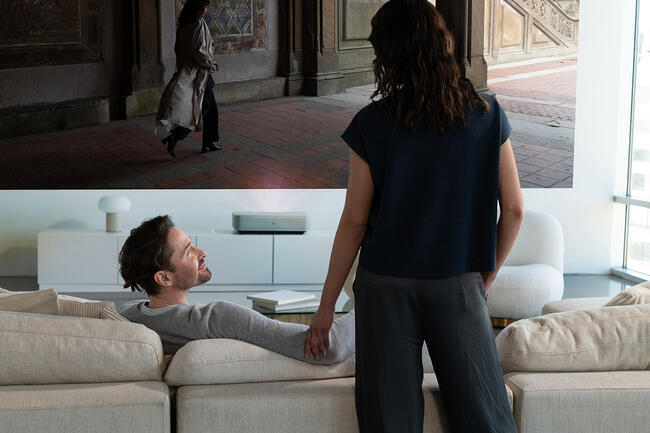 Over 100% BT.2020
Experience brilliant colours like never before! The extended colour space of the BT.2020 (Rec.2020) radio standard, which is specially tailored to 4K/8K projectors and televisions, creates a lively colour world that far surpasses the existing BT.709 (Rec.709) full HD standard. Good to know: this particularly oversized colour space is only practically completely covered by laser TVs with triple lasers, such as the Leica Cine 1, whereas other TV technologies are unable to display the colour space.
Image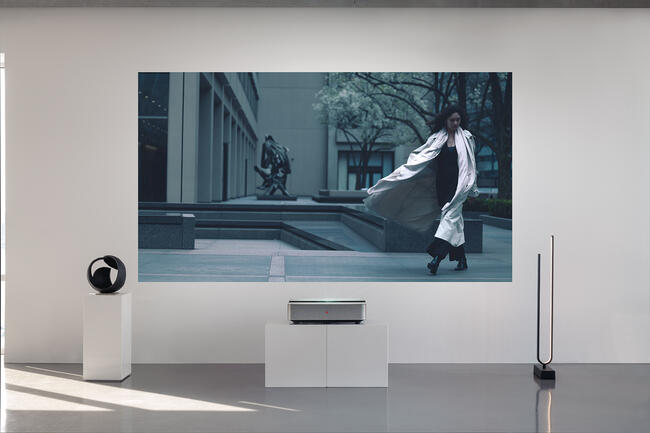 Over 25,000 Hours Lifespan
The RBG-laser unit in the Leica Cine 1 has a service life of more than 25,000 hours, which means: 12,000 films or four hours of use per day - for more than fifteen years of sustainable use.
Image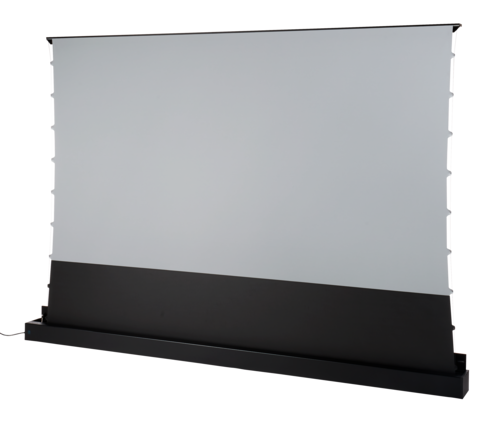 Pull-up Screen / Canvas
The mobile, motorised pull-up screen is the best prerequisite for first-class projection. The slim screen made of high-quality fabric is hidden in a lightweight aluminium housing, the integrated scissor joint with pneumatic lift ensures stability and durability. No assembly is required for the pull-up screen - the screen is simply pulled out of the housing. The very slim and light aluminium case has two latches to protect the screen during transport.
Image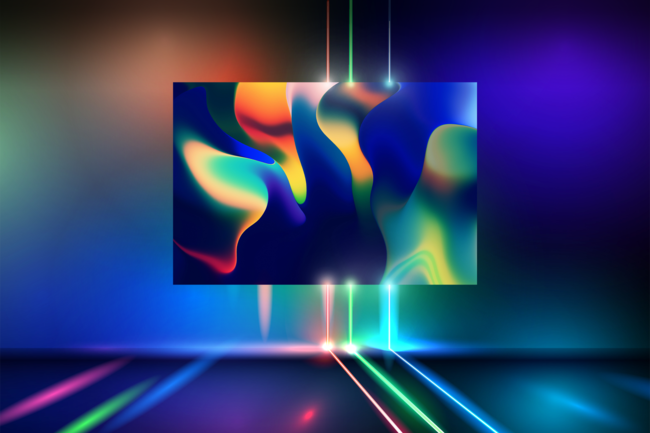 Triple RGB-Laser
The triple RGB-laser of the Leica Cine 1 uses three separate laser units for the primary colours red, green and blue as the light source for the projection. Compared to conventional projectors, which only use one or two different coloured lasers or lamps as a light source, triple RGB-lasers are significantly more durable, consume less energy and can display significantly more colours.
Triple RGB-lasers use the so-called "pure laser technology". The red, green and blue laser light is delivered directly to the DLP (Digital Light Processor) image chip without generating any further mixed colours. This technology enables the creation of a particularly large and stable colour space, which can cover even more than 100% of the demanding BT.2020 colour space.
Image
Triple Tuner
Television programmes can currently be received in three ways with the triple tuner: via cable (DVB-C), via satellite (DVB-S) or via antenna (DVB-T). The Leica Cine 1 has a triple tuner and is therefore able to handle all of these types of reception, as the receiver is integrated directly into the projector. The Cine 1 also has a CI+ interface that can be used to receive encrypted TV channels and high-resolution content.
Image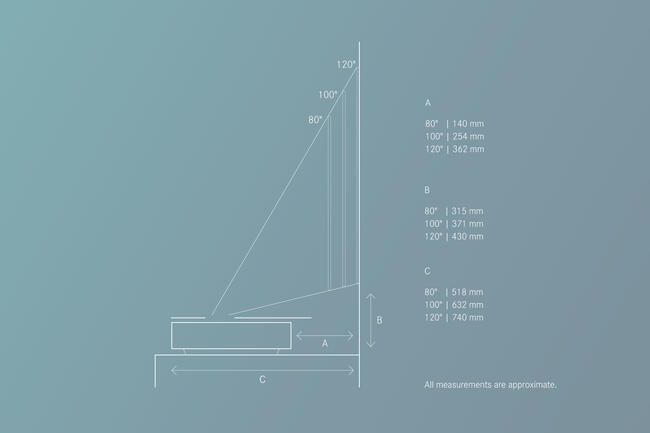 Ultra-short Throw Projector
The Leica Cine 1, with an image size of 100 inches, is placed at approximately only 25 cm from the wall and, thanks to its special lens with a deflection mirror system, projects the image at close range. Leica Summicron lenses are preset to a fixed image size to ensure that the projection lens is always precisely tuned.
Image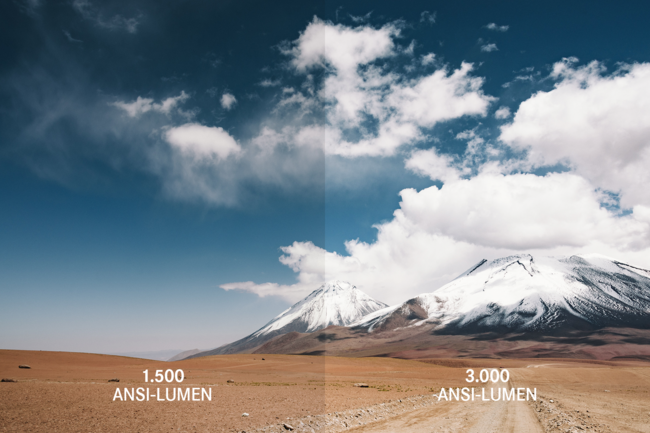 Up to 3,000 ANSI Lumens
Stunning detail at any time of the day! With a brightness of up to 3,000 ANSI lumens, you can immerse yourself in your favourite movies, series or games, even in broad daylight, without having to use blackout curtains. The ANSI lumens are a unit of measurement for the luminosity of projectors and laser TVs. The higher the value, the brighter the projected image in daylight. The Leica Cine 1 offers a brightness of up to 3,000 ANSI lumens, enabling brilliant images in any environment. Every detail is displayed pin-sharp.
Image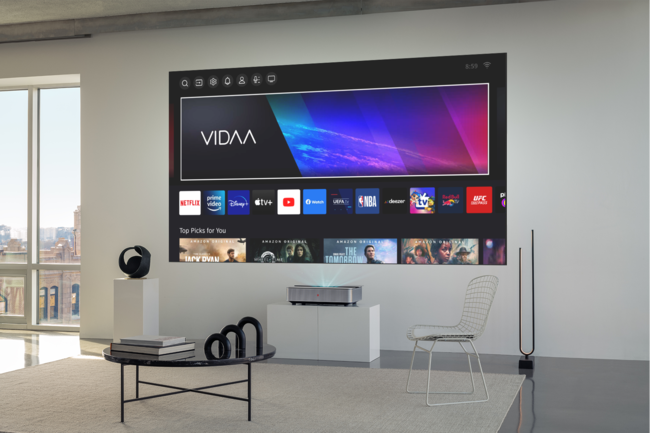 VIDAA Operating System
The Linux-based VIDAA Smart TV operating system is characterised by its particularly intuitive operation. The VIDAA platform gives you direct access to more than 200 nationally and internationally known streaming services from Netflix, YouTube, Prime Video, Disney+, Deezer, Red Bull TV, DAZN and many other partners. You can find the content you want quickly and easily with the universal search feature. VIDAA also suggests shows that match your interests – whether you prefer to watch documentaries, blockbusters or children's films. You can also connect your smartphone to the Cine 1 via the VIDAA app, use voice control or stream content to the Cine 1 via Apple AirPlay.