Image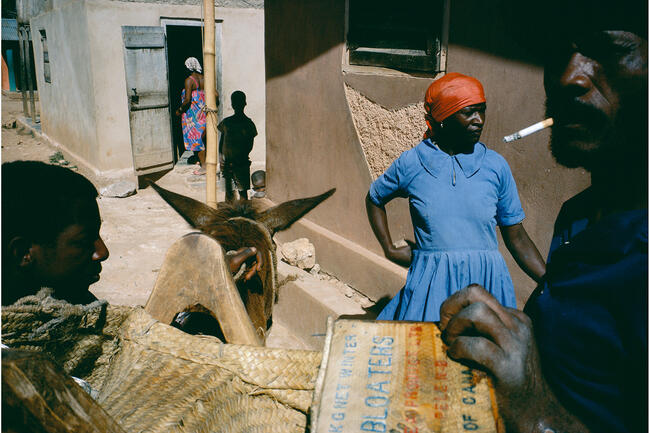 © Alex Webb, Bombardopolis, Haiti, 1986
Image
© Alex Webb, Bombay, India, 1981
Image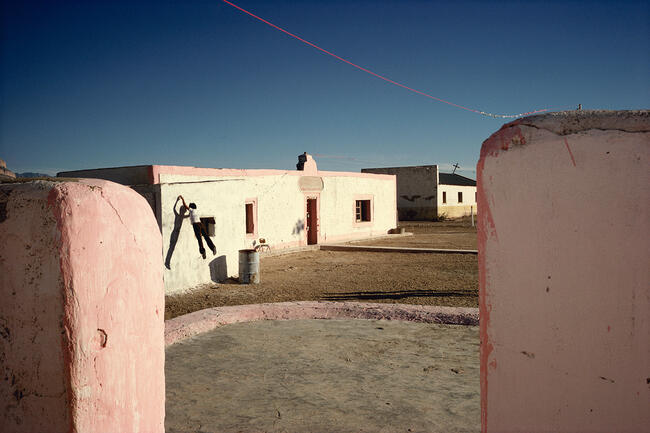 © Alex Webb, Boquillas, Mexico, 1979
Image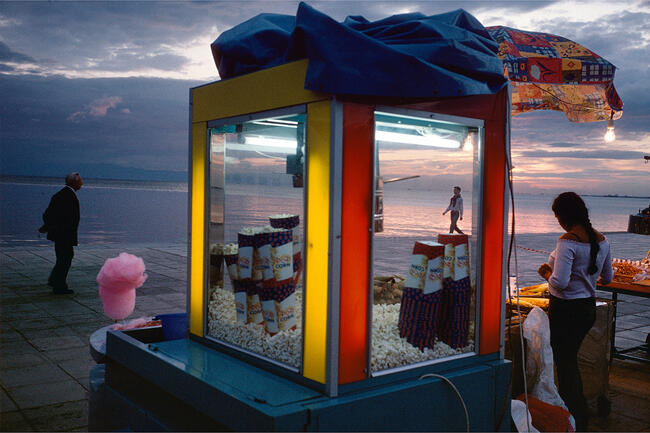 © Alex Webb, Thessaloniki, 2003
"... Quelles que soient les idées présentes dans mon travail, elles naissent de l'expérience de l'errance et de la marche. "
En collaboration avec Leica, cette exposition d'Alex Webb présente une sélection personnelle extraite de son travail riche et varié. cette sélection offre un aperçu de trois décennies de photographies en couleur. Outre l'Inde, la Grèce, les îles Grenade et Haïti, l'exposition est composée d'images prises à Cuba et au Mexique, publiées en livres, La Calle et Violet Isle, ce dernier étant une collaboration avec son épouse, la photographe Rebecca Norris Webb. Souvent inspiré par la lumière, les couleurs et l'atmosphère des tropiques, Webb a erré dans les rues du monde, ne se contentant pas de documenter la vie quotidienne, mais découvrant des moments uniques et parfois énigmatiques qui ont parfois une résonance sociopolitique. Les photographies ont été prises avec des appareils Leica M.
Alex Webb est né à San Francisco le 5 mai 1952. Il a développé un intérêt pour la photographie alors qu'il était encore jeune. De 1970 à 1974, il étudie la littérature et l'histoire à l'Université de Harvard, ainsi que la photographie à l'atelier Apeiron à Millerton, New York, en 1972. En tant que photographe indépendant, il a tout publié ses sujets en noir et blanc, puis en couleurs, dans des magazines de premier plan. Il est membre de l'agence Magnum depuis 1979. Alex Webb a présenté son travail dans de nombreux livres et expositions, et a reçu de nombreux prix, notamment la Médaille d'excellence Leica (2000), la médaille David Octavius Hill. de l'Académie allemande de la photographie (2002) et  une bourse Guggenheim (2007).
La souffrance de la lumière| Alex Webb
05/09/2019 - 03/11/2019
Leica Camera AG Am Leitz-Park 5
35578 Wetzlar
Germany
+49 (0) 6441 - 2080-333
Opening hours
The Leica Gallery Wetzlar is open on Monday to Sunday from 10am - 6pm.
Gallery Wetzlar