Image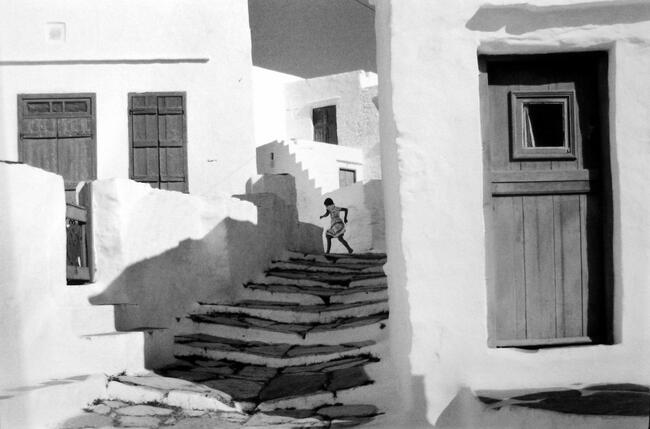 Photo by Henri Cartier-Bresson
Explore the works of one of the greatest artists of the twentieth century, Henri Cartier-Bresson, in a special collaboration with Leica Gallery Los Angeles and Peter Fetterman Gallery, beginning June 13. 
Henri Cartier-Bresson was one of the greatest artists of the twentieth century. What makes Cartier-Bresson's vast body of work so universally impressive is that he was seemingly present at every significant event and in the intimate company of every important figure of the 20th Century. Trained as a painter at a young age, Cartier-Bresson was heavily influenced by the Cubist and Surrealist concepts when he first began photographing towards the end of the 1920s. It was photography's ability to be an immediate sketch that could capture everyday situations with exceptional grace and Zen-like spontaneity that inspired the young intellectual to travel with the Leica as his companion for decades to follow.
Beyond "The Decisive Moment", the title of his 1952 landmark monograph and philosophical theory on photographing as the artless art, Cartier-Bresson was a zealous geometrician and strictly adhered to only composing within the camera and never in the darkroom. His passion for visual harmony, humanity and the impermanence of reality focused by a classically trained eye allowed for the creation of an unrivaled body of historic imagery.
On view from June 13 - September 5, 2019. For more information, visit Leica Gallery Los Angeles.
Coffee, Cameras & Conversation with Peter Fetterman
August 11, 2019 | 10 AM - 11 AM
Join us for an intimate discussion as Peter speaks about our current Leica Gallery exhibition "Eye of the Century" by Henri Cartier-Bresson.
After meeting in Paris in 1990, Peter Fetterman developed a close dealer-artist friendship with Cartier-Bresson. Inspired by a firm belief in the importance of his work, Peter amassed the largest private collection of the photographer's signed prints in the world. The collection includes prints from negatives ranging seven decades from 1929 - 1999.
For more information or to register, click here.
Henri Cartier-Bresson
13/06/2019 - 31/07/2019
8783 Beverly Blvd
West Hollywood, 90048
United States
Opening hours
Monday-Saturday 10am-6pm
Sunday 12pm-5pm

Complementary valet parking is available Monday through Friday in the parking lot to the right of the store.
Gallery Los Angeles