Image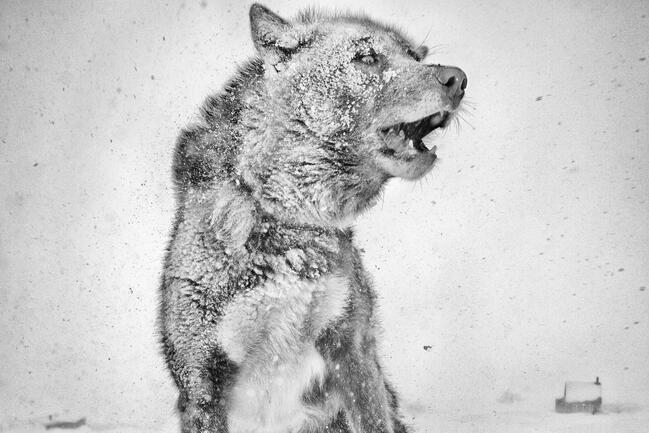 Für den isländischen Fotografen Ragnar Axelsson ist der grönländische Schlittenhund einer der größten Helden, die der Norden je gekannt hat .
Die Serie "Arctic Heroes – Where the world is melting" ist eine in Schwarzweiß fotografierte Hommage nicht nur an die Hunde, sondern auch an die durch die dramatisch fortschreitende Erderwärmung verschwindende Kultur der Arktis.
"Stellen Sie sich vor, Sie wachen eines Morgens in der nördlichsten Siedlung der Welt auf – mitten im Winter, die Nacht ist pechschwarz. Das Gebell eines einsamen Hundes durchbricht die Stille. Draußen ist es bitterkalt. Das Dorf selbst scheint zu schlafen. Niemand ist auf oder unterwegs. Das Heulen vervielfacht sich, als die Dorfhunde sich gegenseitig aufwecken." Mit dieser Beschreibung nimmt uns der isländische Fotograf mitten hinein in seine Expeditionen in den Norden. Seit über 40 Jahren fotografiert er in der Arktis, er kennt sich wie kaum ein anderer Fotograf in dieser eisigen Welt aus.
Der Schlittenhund steht im Mittelpunkt dieser Serie, mit der Ragnar Axelsson 2020 auf der Shortlist des international renommierten Fotowettbewerbs "Leica Oskar Barnack Award" stand. "Diese Fotografien sind meine Art, die wahren Helden der Arktis im Norden zu ehren," so der Fotograf, dessen Motive zwischen 1987 und 2019 entstanden sind und ab Oktober 2022 in der Leica Galerie Zingst gezeigt werden.
Ragnar Axelsson "Arctic Heroes - Where the world is melting"
30/09/2022 - 28/02/2023
Am Bahnhof 1
18374 Zingst
Germany
Opening hours
Monday – Friday 10.00 – 12.00 and 14.00 – 18.00
Saturday - Sunday 14.00 - 18.00
Leica Gallery Zingst