Image
In the mountains or other difficult terrain, determining precise distances is essential. The Leica Rangemaster models are extremely easy to use and always at the ready, in any weather, light or visibility conditions. And they're so compact and light that they fit easily into any pocket. The Rangemaster delivers absolutely accurate measurements – readable within seconds from the clear LED display with automatic brightness control.
Image
Maximum ease of use
Distance determination with only one hand
Precise rangefinding, simple and compact: The unique combination of outstanding optics, state-of-the-art measurement and laser technology, and extensive ballistic functionality in a compact, rugged design makes the new Rangemaster the most versatile rangefinder in its class.
Image
Single-handed
Distance determination with only one hand
From the very beginning, the Leica CRF Rangemaster series was designed with an uncompromising focus on ergonomics and compact size. It seems to nestle into the palm of the hand. This ensures a comfortable hold and allows the measuring button to be pressed easily, thus providing the foundation for precise, clean measurements. The Leica Rangemaster is incredibly versatile, powerful and rugged. Thanks to its compact, sturdy design and a weight of only 220 g, it's the perfect companion for left- and right-handed hunters in every hunting situation.
Image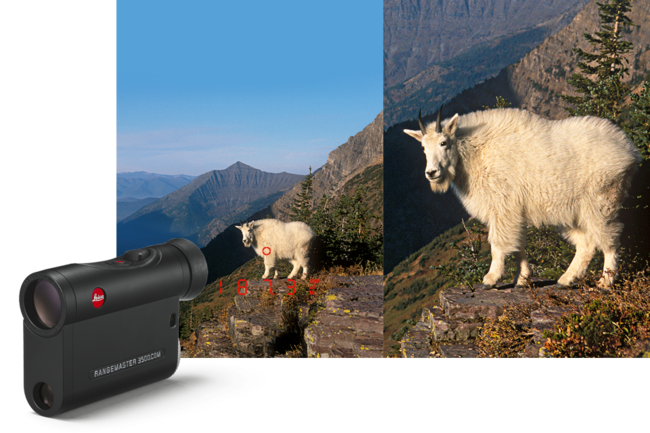 Sharp in the extreme
Brilliant and razor-sharp images from edge to edge
Even at dusk and in difficult light conditions, the images remain exceptionally clear and razor-sharp. The large field of view and 7x magnification make it quick and easy to detect the target. The sharply defined LED display with automatic brightness control guarantees simple and reliable reading of the measured distance and the ballistic output values – in all situations and at all times.