Image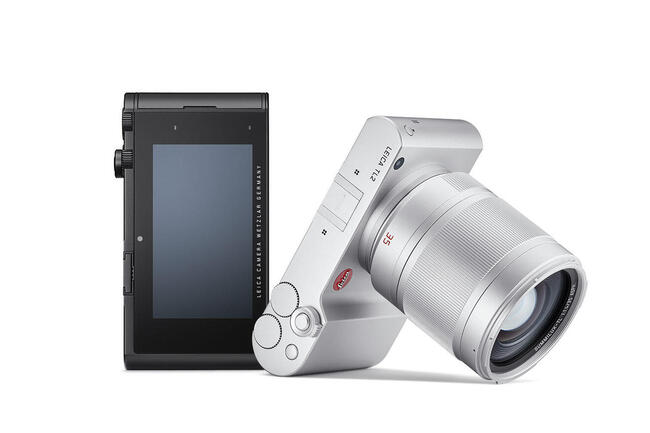 The Uni-Body, machined in one piece from a solid block of aluminum, is robust and resilient. The design was created in collaboration with Audi Design and stands for clean lines in minimalistic form. Smooth surfaces that nevertheless provide ideal grip ensure a feeling of perfect unity of form and function.
This continues with the controls and the shutter button of the camera. The carefully balanced sensitivity give you full control when taking photos.
Image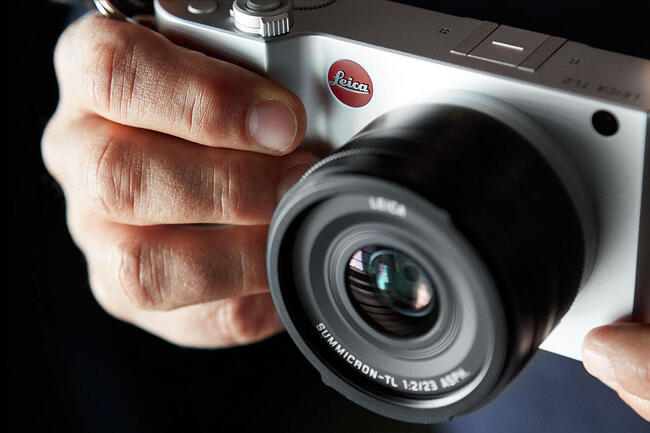 The high-resolution 24MP sensor, the Maestro II image processor and the fast autofocus ensure the brilliant image quality, Leica is known for.
With a sensitivity from ISO 100 to ISO 50000, you can capture detailed images even in difficult light conditions.
Image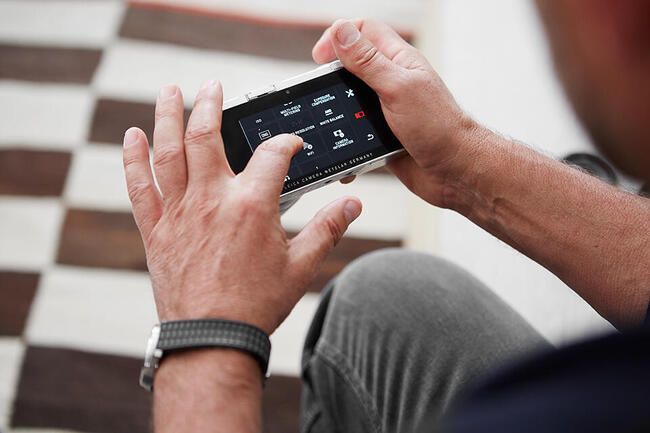 With the large touchscreen you have full control of the Leica TL2. The customizable user interface can be adapted to your own needs.
As a result, all relevant functions are arranged clearly and easy to reach.
Image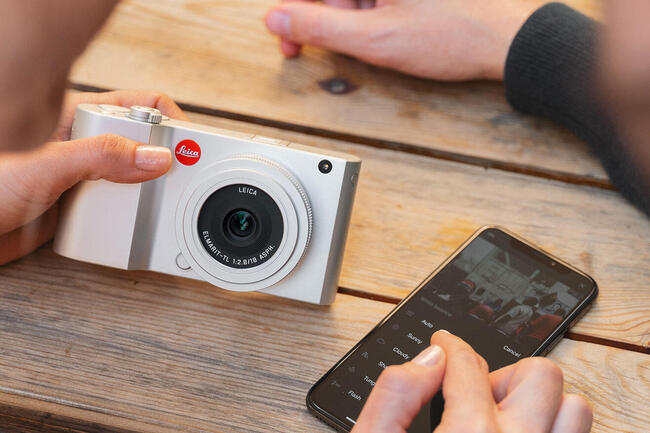 Connect and share with an ease
The TL2 comes with HDMI and USB 3.0. Via HDMI it can be connected to external displays and even large DNG data can be transmitted via USB at high speed. In addition, the battery can be charged on the go or on the laptop.
Thanks to the easy connection to the Leica FOTOS App, images can be transferred instantly from the camera to the smartphone, to share them via Social Media.
Image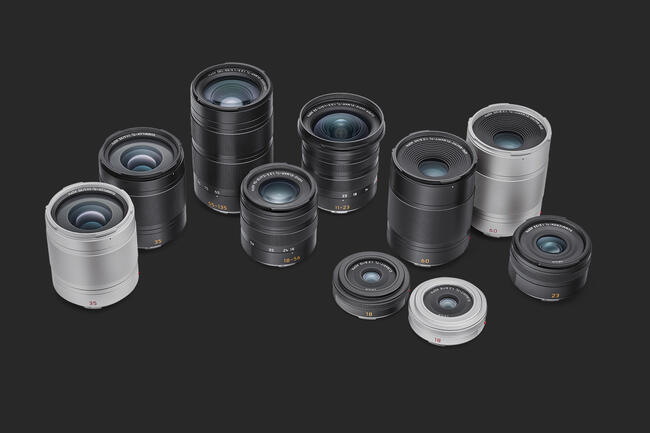 Leica TL-Lenses
The exceptional imaging performance of Leica lenses has evolved from more than 150 years of experience in the development of precision optical instruments.
The lenses for the APS-C System are naturally also characterised by our dedication to optical perfection.
Digital APS-C system camera
Camera Type
Digital APS-C system camera
Lens mount
Leica L bayonet with contact strip for communication between lens and camera
Compatible lenses
Lenses with Leica L-Mount, Leica M/R lenses using the Leica M-Adapter L/R-Adapter L.
The Leica TL2 supports the basic functions of Panasonic and Sigma L-Mount lenses, but is excluded from further L-Mount related updates.
Sensor
APS-C sized CMOS sensor (23.6 x 15.7 mm) with 24.96/24.32 million pixels (total/effective), aspect ratio 3:2
Photo Resolution
DNG: 6016 x 4014 Pixels (24 Megapixels), JPEG: optional 6000 x 4000 Pixels (24 Megapixels), or 4272 x 2856 Pixels (12 Megapixels), or 3024 x 2016 Pixels (6 Megapixels)
Photo file formats/compression rates
Optional: JPG, DNG, or DNG + JPG, DNG optionally uncompressed or compressed (lossless)
Video recording format
MP4
Video resolution/frame rate
3840 x 2160 p (4K) 30fps, 1920 x 1080 p (FHD) 60 fps or 1280 x 720 p (HD) fps or 1280 x 720 p (HD) 120 fps (SLOMO)
Video recording time
Depending on ambient or housing temperature video recordings are possible up to a maximum length of 29 minutes, maximum file size is 4 GB, if a recording exceeds this limit, the respective part is automatically stored in another file
Internal memory
32 GB
Storage media
SD/SDHC/SDXC memory cards, multimedia cards, UHS II-standard is supported
ISO range
Automatic, ISO 100 to ISO 50000
White balance
Automatic, presets for daylight, cloudy, halogen lighting, shadow, electronic flash, two memory slots for manually metered settings, manual color temperature setting
Autofocus system
Contrast-based
Autofocus metering methods
Single point, multi-zone, spot, face detection, touch AF
Exposure modes
Automatic program, aperture priority, shutter speed priority, and manual setting, Fully automatic, sport, portrait, landscape, night portrait, snow/beach, fireworks, candlelight, sunset, digiscoping
Exposure Metering Methods
Multi-zone, center-weighted, spot
Exposure compensation
±3 EV in 1⁄3 EV increments
Automatic exposure bracketing
Three pictures in graduations up to ± 3EV, adjustable in 1⁄3 EV increments
Shutter speed range
30 s to 1⁄40000 s (up to 1⁄4000 s with mechanical, beyond that with electronic shutter)
Picture sequence
Approx. 7 fps (with mechanical shutter) and 20 fps (with electronic shutter), 29 pictures at full speed, then depending on memory card properties
Flash modes
Adjustable with attached, system compatible flash
Flash exposure compensation
±3 EV in 1⁄3 EV increments
Flash synchronization
1⁄180 s
Monitor
3.7" TFT LCD, 1.3 million pixels, 854 x 480 per color channel
Self-Timer
Selectable delay time 2 or 12 s
WLAN
Complies with IEEE 802.11b/g/n standard (standard WLAN protocol), channel 1-11, encryption method: WiFi-compatible WPA™/WPA2™
Power supply
Leica BP-DC13 lithium ion battery, rated voltage 7.2 V, capacity 985 mAh (min.) (based on CIPA standard): approx. 250 pictures, charging time (after total diwscharge): approx. 160 min Manufacturer: Panasonic Energy (Wuxi) Co, Ltd. Made in China
Interfaces
Micro (type D) HDMI port, HDMI 1.4b standard is supported, USB type C port, USB 3.0 Super Speed standard is supported, battery charging via USB connection possible with max. 1 A, accessory shoe with Leica flash interface with integrated connection for optional accessories
Charger
Leica BC-DC13, input: AC 100-240V, 50/60Hz, 0.145 A (100 V)-0.08 A (240 V), automatic reversing, DC 8.4 V, 0.65 A, Weight: approx. 90 g/3.2 oz, Dimensions: approx. 96 x 68 x 28 mm, Manufacturer: Shenzen Eng Electronics Co., Ltd., Made in China
Body
Leica unibody aluminum design, attachment system for carrying straps and other accessories, ISO accessory shoe with center and control contacts for flash units or Leica Visoflex electronic viewfinders
Tripod thread
A 1⁄4 DIN 4503 (1⁄4")
Body dimensions (WxHxD) 
134 x 69 x 33 mm
Weight
Approx. 399 g/355 g (with/without battery)
Scope of delivery
Camera body, carrying strap, 2 release keys for removing the dummy plugs or e.g. the carrying strap, battery (Leica BP-DC13), charger (Leica BC-DC13) with 6 adapter plugs, USB type C cord
Software
Leica TL-App (free download in Apple™ App Store™/Google™ Play Store™)