Image
Leica SL2-S
Two worlds. One choice.
Improved features and functionality for maximum performance
Firmware Version 2.0 for the Leica SL2-S
Everything we do is driven by your passion for photography and video. We provide regular firmware updates to ensure that you can look forward to the long-lasting use and enjoyment of your camera. With the latest firmware update, the SL2-S comes with a number of new features and noticeable performance improvements, especially in the world of video production.
OPTIMIZED FUNCTIONS IN DETAIL
The latest firmware for the Leica SL2-S provides the following new functions.
Performance Improvements Firmware Update 2.1
Improvements to the user profile
The user profile now stores whether the camera was in photo or video mode when last used.
Improved automatic follow focus
FN Buttons can now be used. Continued manual focus control in video and live view after the predefined automatic follow focus sequence finishes.
Improvement on image overlay
Info levels can be changed while selecting images.
Highlight weighted metering
Performance improvements.
Leica FOTOS
Performance improvements.
Download Firmware Update
Download the firmware update for the Leica SL2-S below. The instructions provided with the firmware update will guide you safely through the installation process.
Firmware
RELEASE NOTES FOR LEICA SL2-S - FIRMWARE 2.1
FIRMWARE LEICA SL2-S - VERS. 2.1
en
de
it
fr
ru
es
pl
ja
zh
ko
id
tw
sv
sk
cs
pt
nl
no
da
IT_Vader-24-FW2.1-Release-Notes.pdf
JA_Vader-24-FW2.1-Release-Notes.pdf
FIRMWARE CHRONOLOGY
Firmware Update 2.0
New Autofocus algorithm
Improved eye/face/head/body recognition and focus tracking.
HEVC video compression
Internal 4K recording with 10 Bit at 60p/50p with h.265 codec.
Long-GOP
Recording for 10 Bit codecs with 150 – 200 MB/s means same Image Quality as All-Intra but less than half of data size.
Segmented Video
Videorecording will be split 1 minute segments to avoid data loss.
Individual Viewing LUT
Upload function for individual Look Up Tables.
Enhanced Live View
Better low light image composition control of the Live View image.
Image Overlay
Allows alignment of the camera position on basis of a previous taken image, that is displayed in a transparent mode in the EVF or on the LCD.
Automatic Follow Focus
Definition of three focus points for automatic focus shift during video recording.
Wave form monitor
Professional exposure valuation of the video signal.
Color bar
Reference for correct color grading and sound control in postproduction.
Tally Mode
Camera shows red frame on LCD during video recording.
Highlight weighted metering
Metering method to save highlights instead of shadows.
Dynamic-range control
Increase brightness in shadows.
Highlight-shadow control
Precise contrast adjustment controls.
Image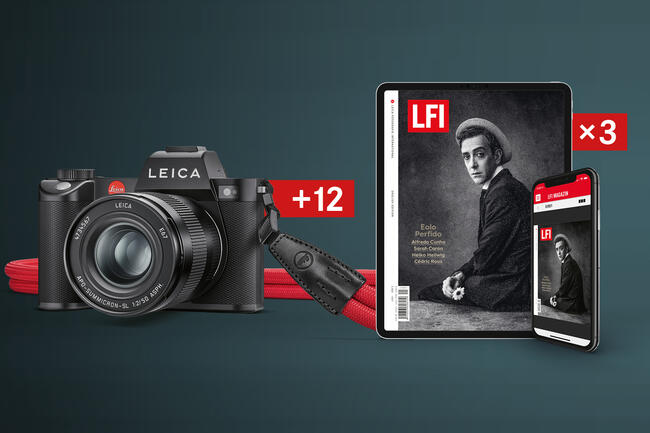 Register your Leica. Enjoy exclusive benefits.
By registering your item, you can extend the warranty on your Leica camera or lens for a further 12 months and you'll receive three digital editions of the LFI Magazine. This offer covers all Leica cameras and lenses from the M-System, SL-System and Q.