Image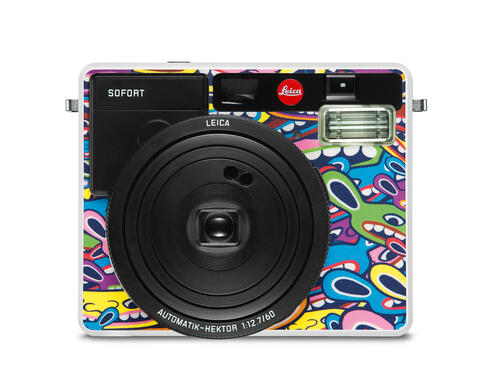 Leica SOFORT "LimoLand by Jean Pigozzi"
by Jean Pigozzi
Leica Camera AG present the first special edition of their versatile instant camera, the Leica SOFORT. The camera's front and rear panels are embellished with the vibrant graphics of "Mr Limo" – the logo of the LimoLand fashion label established by French-Italian photographer, entrepreneur and art collector Jean Pigozzi in 2007. Produced in a small run of a few thousand units, the LimoLand edition offers the same technical specifications as the camera's serial versions in white, orange or mint. The LimoLand model comes with a matching shoulder strap, embellished with the Mr Limo design and made by Artisan&Artist. The Artisan&Artist's patented Easy Slider "icon Strap" made of high quality nylon with adjustable strap. To adapt the length of the strap, simply move the "Mr-Limo-Puller". The desired length is automatically secured by letting it lose and is especially handy when carrying the camera diagonally. The ends of the straps and protective tabs are made of leather.
When set to automatic mode, the Leica SOFORT uses the available light for as long as possible without adding the built-in flash. The results are authentic and natural pictures.The Leica SOFORT not only offers a range of shooting modes (Automatic, Party & People, Sport & Action and Macro), but also features a self-portrait function, creative programmes for multiple and two timed exposures. To achieve these results, the camera automatically adjusts different parameters such as exposure time and aperture to the selected programme. The flash activation may either be left to the camera or activated or deactivated depending on your intention. The Leica SOFORT features a rectangular mirror on the front for an easier composition of self-portraits.The focusing range of the Leica SOFORT can be set regardless of the selected programme-mode. Hence, the camera offers additional creative freedom when taking pictures according to standard or remote setting and programme selected.